Family and friends are saddened to announce the death of Rob Komosa. According to family Rob succumbed to respiratory failure on Saturday evening March 16, 2000. His mother Barbara his 24-hour care giver since his injury was unable to revive him — 13-years after he was paralyzed at a football practice at Rolling Meadows High School.
On October 6, 1999 Rolling Meadows High School football junior Rob Komosa was tackled during practice into an unpadded fence post near the sideline and was instantly paralyzed. The post was only 11 feed 5 inches from the football field. Komosa underwent rehab at the Rehab Institute of Chicago and returned home to his residence in April, 2000.
Rob and his family settled a contentious lawsuit against Township High School District 214. Rob Komosa lived as a person near totally paralyzed and breathed only via a mechanical ventilator. For nearly five years Rob and his family relied on the charity of the community for financial support. An out of court settlement was reached by his attorney, Jeffrey Kroll of the Robert Clifford Law firm for a sum of $12.5 million. The legal battle was contentious and was settled: "no fault."
Rob Komosa inspired thousands of persons in metro Chicago demonstrating an uncanny resilience and demeanor accepting his "fate worse than death" as one media reporter described it with great dignity.
"He was the most positive person I have ever known. I will miss him. He is paralyzed no more, he is free!"
— Deacon Donald Grossnickle, Ed.D Co-Founder, Gridiron Alliance NFP
Komosa reached out to paralyzed Eisenhower High School Cardinal football player and later friend, Rasul Rocky Clark of Robbins. Komosa helped Clark adjust and became a friend a mentor. Komosa helped raise funds for Clark including work to obtain a wheelchair accessible van. The Chicago Bears rallied to support both Komosa and Clark. Komosa and Clark regularly were guests at practices and games. Komosa never became bitter or resentful. Komosa helped produce a book: Great Moments in Football Halftime with Bears Coach Dick Jauron, Northwestern Football coach Randy Walker and Deacon Don Grossnickle. Funds from the sale of the book helped Rocky Clark and several other area paralyzed former athletes. Rasul "Rocky" Clark died in January 2012 following complications of abdominal surgery.
Chicago Bears Vice President John Bostrom and Chicago Bears Director of Community Relations Caroline Schrenker were loyal friends of Komosa and Clark. Komosa was also befriended by Brian Urlahcer and many of the Chicago Bears players who always championed Rob's cause. Virginia McCaskey, owner of the Chicago Bears Football Club loved and supported Komosa at every turn. Komosa was given a wheelchair accessible van by Richard Duchossois — Chairman of The Duchossois Group, Inc., the family-owned company headquartered in Elmhurst, Illinois that is known for its ownership stakes in Arlington Park and Churchill Downs race tracks, as well as for railcar and defense manufacturing.
Kim Duchossois, daughter of Richard Duchossois, was a close friend and especially during the early years of financial strain was an "angel" of kindness purchasing groceries, supplies, medicine and more. Duchossois was a founder of the "Make Room for Rob Campaign". Brian and Joanna Metzger of Arlington Heights built a team of hundreds of persons who raised over $400,000 in less than a year. Rob Komosa was presented with the keys to a wheelchair accessible home in Prospect Heights-The "House that Love Built". The Polish community reached out to the Komosa family, who were immigrants that settled first on Chestnut Avenue in Arlington Heights. Komosa was a proud member of Our Lady of the Wayside Catholic Church in Arlington Heights. The church community acted as a catatyst to help Rob and family. Rolling Meadows high school community held many fund raisers for Rob. The Arlington Area Christian Family movement rallied to build a ramp so that Komosa could leave his small house converted to a clinic.
An hour PBS documentary: The Unbreakable Spirit of Rob Komosa was produced by Bob Ray of Blueline Productions in 2001. The documentary followed Komosa for nearly a year telling his amazing story.
Komosa was a spiritual person accepting his destiny. Cardinal Francis George visited him at Northwestern Memorial Hospital and Komosa attributed the prayers of the Cardinal and others to a spiritual gift of being able to endure long his suffering and for the suffering of his family.
Komosa inspired the founding of a charity called: The Gridiron Alliance — a not-for-profit organization which attends to the special needs of catastrophically injured student athletes. Until the time of his death Komosa campaigned for insurance coverage for high school athletes.
Komosa had thousands of friends. JJ O'Connor of Mount Prospect, also paralyzed in sports (high school hockey), mentored Komosa during the early days of rehab. They remained friends until the end.
Rob Komosa maintained his support for promoting safety and injury prevention in sports via the Gridiron Alliance. He never blamed football for his injury. He maintained his love of sports and football.
Komosa was the main subject of a book published in 2012, Unbreakable Resilience: Leap of Faith Stories to Live By-Eight Survivor Athletes Piecing Together the Grace and Blessings of an Imperfect Life. The book was published as a fund raiser by the Gridiron Alliance.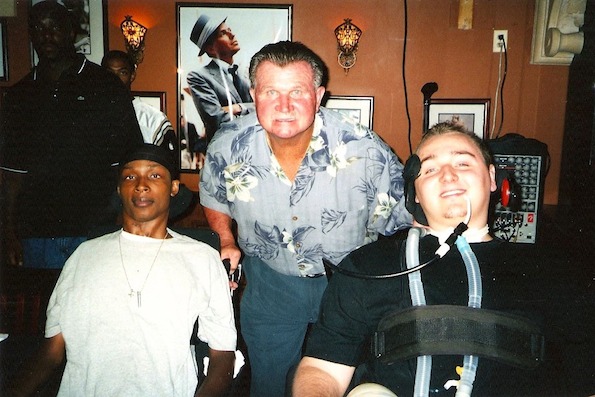 Speaking personally about Rob Komosa, Deacon Donald Grossnickle said, "Rob Komosa was my great friend, he was my spiritual mentor. His comeback resilience was amazing and powerful. I suspect Rob knew that this day would come. He recently reminisced on his Facebook page recalling people who were kind and supportive … the man who donated a computer to him so he could communicate with people, Mike Ditka, medical staff at the Rehabilitation of Chicago and more.
His legacy is wanting all high school athletes to have catastrophic insurance supplied by the school.
Rob gave a new face for disability — focusing always on what he could do, never looking back with resentment, grief or bitterness.
See also …
Gridiron Alliance gridironalliance.org
Facebook.com Robert Komosa (ParalyzeD-DuDe)
The Cardinal Rasul "Rocky" Clark (1984-2012) Dies of Medical Complications from Paralyzing Football Injury in September 2000