A stockholder briefing the was delivered after Redflex Holdings Ltd. filings Monday at the Australian Securities Exchange acknowledged that the Chicago contract with its subsidiary, Redflex Traffic Systems Inc., was likely built on a $2 million bribery scheme (including gifts of Super Bowl tickets and trips to White Sox spring training) involving former Chicago official John Bills who oversaw the red light program for a decade. Involved in the controversy is a two-year-old whistle-blower letter with allegations of the corruption from a Redflex employee.
A Redflex-funded internal investigation was conducted by the Chicago law firm Sidley Austin LLP, regarding allegations reported by the Tribune in October about the close relationship between the Redflex Holdings subsidiary Redflex Traffic Systems Inc., its Chicago consultant, and the now-retired city official, John Bills. The Chicago Tribune concluded that Redflex Traffic Systems Inc. paid $2.03 million to the consultant on its Chicago contract with some of the money intended for the city official. The Chicago Tribune alleged Redflex Traffic Systems Inc. hired a Chicago consultant as a clandestine way to transfer bribe money to John Bills, a top City of Chicago transportation manager who oversaw the red-light program since its initial start in 2003. The internal investigation headed by former city inspector general and federal prosecutor David Hoffman, was commissioned after disclosures by the Chicago Tribune in October.
In general, the reputation of red light cameras, which the Wall Street Journal called a "disguised form of taxation" has been falling in other areas, too.
In Los Angeles, the camera program was suspended amid public outrage when it was discovered that most red light camera tickets were issued to "harmless perpetrators of the 'California roll' — failing to stop completely before making a legal right on red."
In Baltimore it was discovered during a Baltimore Sun investigation that misfiring speed cameras were issuing tickets to non-speeding and even motionless vehicles.
"If the goal of employing red-light camera systems is to improve driver safety, the data suggest that the program has failed."

— New Jersey state Sen. Michael Doherty wrote in the Trenton Times in December 2012.
In New Jersey, it was discovered that revenues fall off sharply when drivers become aware of the cameras, but the accident rates don't drop. Serious T-bone crashes were found to be caused by drivers that weren't paying attention, not willful disregard for red lights.
Numerous studies, including an in-depth federal report, confirm that red-light cameras are associated with an increase in rear-end collisions as drivers slam on the brakes.

— Wall Street Journal The Answer Is a Longer Yellow
In Tampa, Florida hundreds of people received tickets at an intersection where the yellow light was mysteriously set to 3.0 seconds where the state minimum is 4.5 seconds.
In Georgia, where a new state law added one second to yellow lights, red light cameras were no longer profitable and communities canceled their red light camera programs.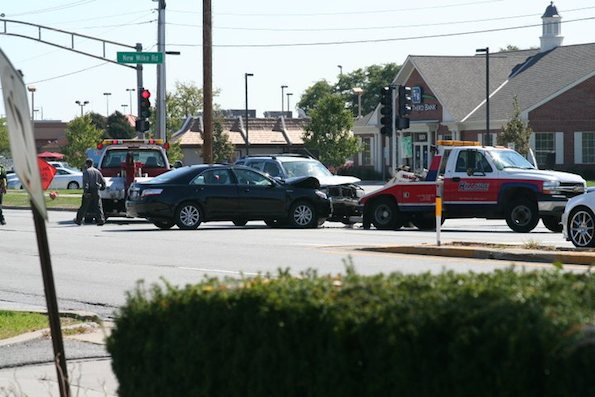 Crash at red light photo-enforced intersection Algonquin Road and New Wilke Road at the Arlington Heights – Rolling Meadows border.
In Arlington Heights there are no red light cameras, but the closest setup is at Algonquin Road and New Wilke Road, which happens to be a sight of frequent crashes — many of them are hit-and-run crashes. One of the hit-and-run crashes involved a driver who got out armed with a tire iron.
The Cardinal Three-Car Hit-and-Run Crash at Algonquin Road and New Wilke; Offender Armed with Tire Iron (December 2011)
The Cardinal Hit-and-Run Crash, No Injuries Algonquin Rd and New Wilke (October 2011)
The Cardinal Hit-and-Run Crash Algonquin Rd and New Wilke Rd, Rolling Meadows (April 2012)
The Cardinal Personal Injury Accident at Algonquin Road and New Wilke Road
In June, 2010 the Arlington Heights Village Board voted unanimously to pass a resolution requesting that Cook County no install red light photo enforced cameras at intersections in Arlington Heights because it "violates the spirit of home rule and imposes on the village's right to regulate traffic within its corporate boundaries."
Sidley Austin LLP, formerly known as Sidley Austin Brown & Wood LLP, is the sixth-largest corporate law firm based in the United States with approximately 1700 lawyers. Sidley Austin LLP headquarters are at One South Dearborn in Chicago.
U.S. President Barack Obama was a summer associate in the Chicago office of Sidley Austin, but never joined the firm as a full-time associate. He met his wife to be, Michelle LaVaughn Robinson (then an associate at Sidley Austin) during his time at the firm.
See also …
Chicago Tribune Redflex outlines bribe probe in Chicago contract
Wall Street Journal The Answer Is a Longer Yellow
Red-light cameras have become a lucrative but corrupt form of taxation.
The Cardinal Arlington Heights Village Board on Red Light Cameras: Resolution to Oppose, Ordinance to Prohibit