CHICAGO, IL – Cook County Sheriff Thomas J. Dart has directed a Chicago-based property management company to immediately cease and desist from providing tenants in Cook County, who reside in properties that are the subject of foreclosure proceedings, with illegal notices that contain threats and misleading, inaccurate information.
CHIProperties, of Chicago, has been posting notices that instruct rental residents they are considered trespassers and must call immediately to make arrangements to move out. The posting also says an eviction process has started – even if an eviction suit has not yet been filed in Circuit court.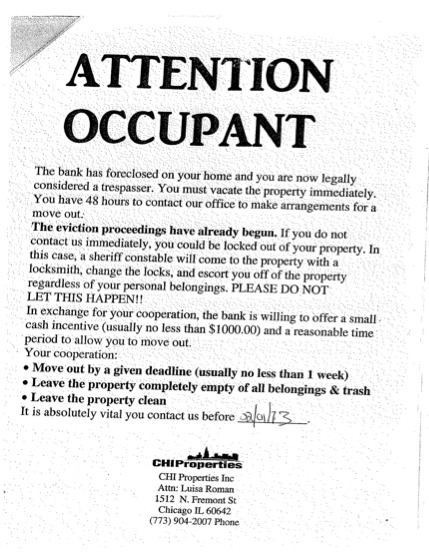 Sample eviction notice from CHIProperties (SOURCE: Cook County Sheriff's Police).
"This notice is illegal, highly deceptive, and amounts to a constructive eviction in apparent violation of various federal, state and local laws, including the federal Protecting Tenants at Foreclosure Act of 2009, the Illinois Mortgage Foreclosure Law as well as the Chicago Residential Landlord Tenant Ordinance," said Sheriff Dart.
When a bank forecloses on a property and wants to evict the tenants, they must go through the courts to obtain an eviction. Sheriff's deputies then enforce the court order and carry out the eviction.
Sheriff Dart has requested that CHIProperties provide the Sheriff's office with the addresses of every property in Cook County in which these illegal notices have been distributed. The Sheriff is also requesting that anyone who has received this notice or a similar notice contact his office at 773-674-7710.
A couple of residents, who received these postings from CHIProperties, brought them to the attention of the Lawyers' Committee for Better Housing – a Chicago-based group that assists renters. These renters, who were paying their rent and under the law are to be given 90-days' notice, were scared and believed it was necessary to leave their homes on short notice.
Sheriff Dart has long been a leader on mortgage foreclosures and tenant problems affecting so many. In 2008, he ordered a moratorium on mortgage foreclosure evictions after he found that in many cases the tenants of the property were paying their rent, but the owner of the building had fallen into foreclosure status.
In October 2010, he halted mortgage foreclosure evictions involving Bank of America, J.P. Morgan Chase and GMAC/Ally after questions arose about the legitimacy of their foreclosure court filings. Many appeared to have been "robo-signed."
Sheriff Dart has worked diligently to ensure the evictions his office enforces are done legally and humanely. The Sheriff's Office has a director of social services, who works with families, seniors, and those with special needs who are facing evictions. The Sheriff's social worker assists individuals in finding new housing, moving assistance and other relocation questions they may have.
In 2012, the Sheriff's Office completed a total of 9,827 evictions, while in 2011 the office completed 7,002.