US Map of 24-hour Snowfall Accumulation showing a 50 percent chance of a path of snow with an accumulation of 6-8 inches from western Illinois to northeast Illinois (dark blue) was mapped out by an experimental model just after midnight Monday morning. A small area of 8-10 inches of snow (50 percent chance) was mapped out closer to the Lake Michigan shoreline.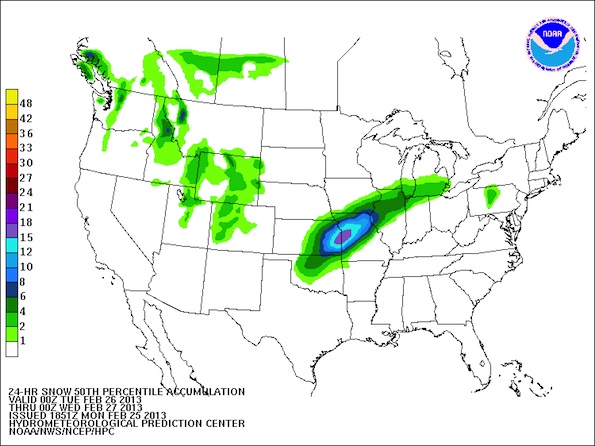 US Map of 24-hour Snowfall Accumulation showing a 50 percent chance of a path of snow with an accumulation of 4-6 inches from western Illinois to northeast Illinois (dark green) was mapped out by an experimental model just after noon Monday morning.
Weather for tomorrow is very difficult to predict with areas of heavy snow forecast in a width of only three or four counties.
The current weather model includes Arlington Heights in an area with a forecast of 6.8 inches of heavy, wet snow — right smack in the middle of the probable path. Rockford is in line for 5.7 inches. Orland Park is in line for 6.4 inches. Wheaton is in line for 6.9 inches of snow. These accumulations are likely to get downgraded to about 4-6 inches by this evening, and a lack of enough cold air in the forecast area or in the entire Great Lakes area, could result in even less snow accumulation — about 2-4 inches. The warm air may also dry out (occlude) the system that is approaching, resulting in a second factor that would negate this system as a major snow producer.
That being said, and realizing that it is too early to give a reliable scientific forecast; The Cardinal is turning to the "art" of forecasting. At this early point in the forecast for Tuesday, The Cardinal is forecasting 4-6 inches accumulation for Arlington Heights, northwest Cook County and the northern suburbs. The Cardinal expects the upcoming winter storm to be the biggest so far this winter season. The Cardinal is betting (and it's a long shot) that the forecast storm path will be accurate, the moist Gulf air will continue to flow into the area, the low pressure will be intense, the air will be cold enough to make a decent snow machine, and that Lake Effect snow will add to the accumulation.
Monday, with its sunny skies, is turning out warmer than expected, but that does not mean, by itself, that there will be diminished snow accumulation tomorrow. The air seems ripe for significant precipitation, but temperature predictions for tomorrow are currently unreliable. Air temperature today at noon was 40°F. Winds have been light from the east and southeast, or calm conditions have existed.
The low pressure system is intensifying as it approaches with plenty of Gulf moisture moving into the area — unlike the over-rated snow system we just experienced last Thursday/Friday, which was influenced by dry air. As the low pressure center gets close and passes, it is expected to bring strong northeast winds, which could bring additional snow from lake effect snow to areas near the Lake Michigan shoreline. Winds are expected to be steady at about 22 mph from about 9:00 a.m. until 1:00 p.m. Tuesday — and gusting up to 37 mph. No big cold blast is expected after the storm with temperatures holding in the 30s and upper 20s.
And if The Cardinal is wrong, we'll be all wet.
A Winter Storm Warning was already posted for Macomb, IL, Galesburg, IL and Quincy, IL; and now includes Peoria. However, areas just east and south of Peoria have a Winter Weather Advisory, and cities two counties over have only a Hazardous Weather Outlook. The warnings, watches and advisories further illustrate the narrow margins for Tuesday's forecast.
URGENT – WINTER WEATHER MESSAGE…CORRECTED
NATIONAL WEATHER SERVICE CHICAGO IL
1025 AM CST MON FEB 25 2013
…POTENTIALLY HEAVY SNOW AND STRONG WINDS TO AFFECT NORTHERN IL
ON TUESDAY…
WINNEBAGO-BOONE-MCHENRY-LAKE IL-OGLE-LEE-DE KALB-KANE-DUPAGE-COOK-
LA SALLE-KENDALL-GRUNDY-WILL-
INCLUDING THE CITIES OF…ROCKFORD…BELVIDERE…WOODSTOCK…
WAUKEGAN…OREGON…DIXON…DEKALB…AURORA…WHEATON…CHICAGO…
OTTAWA…OSWEGO…MORRIS…JOLIET
1025 AM CST MON FEB 25 2013
…WINTER STORM WATCH REMAINS IN EFFECT FROM TUESDAY MORNING
THROUGH TUESDAY EVENING…
* TIMING…WET SNOW…POSSIBLY MIXED WITH SLEET INITIALLY…WILL
BEGIN TUESDAY MORNING AND CONTINUE THROUGH TUESDAY AFTERNOON.
SNOW MAY BE HEAVY AT TIMES BEFORE TAPERING TO LIGHTER SNOW
TUESDAY EVENING.
* SNOW ACCUMULATION…LIMITED THREAT FOR LOCALIZED AMOUNTS OF 6
INCHES.
* MAIN IMPACT…HEAVY SNOW AND STRONG EAST NORTHEAST WINDS
GUSTING TO 40 MPH…ESPECIALLY NEAR THE LAKE MICHIGAN SHORE…
WILL REDUCE VISIBILITY AND MAKE TRAVEL HAZARDOUS.
* SECONDARY IMPACT…THE WET AND HEAVY NATURE OF THE SNOW CAN
RESULT IN DIFFICULTY SHOVELING.
PRECAUTIONARY/PREPAREDNESS ACTIONS…
A WINTER STORM WATCH MEANS THERE IS A POTENTIAL FOR SIGNIFICANT
SNOW…SLEET…OR ICE ACCUMULATIONS THAT MAY IMPACT TRAVEL.
CONTINUE TO MONITOR THE LATEST FORECASTS.
Become a fan of The Cardinal weather page. Submit your pictures or just stay up-to-date on weather topics — go direct to the Arlington Cardinal Weather photos. For a list of all of The Cardinal Facebook fan pages, go to Arlingtoncardinal.com/about/facebook …