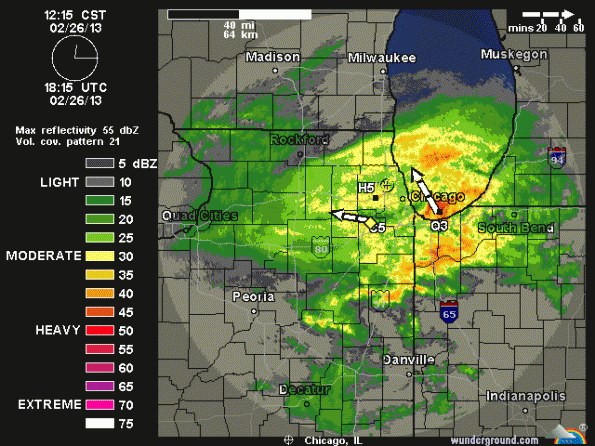 Radar image at 12:15 p.m. CST. (LIVE RADAR IMAGE …)
UPDATES:
RADAR SHOWS WINDING DOWN … WE'LL SEE HOW MUCH BACKLASH WE GET AS THE LOW PASSES TO THE EAST. THE WORST IS PROBABLY OVER, BUT SNOW WILL LINGER … RADAR AT 4:53 PM …
Snow Bands As Heavy or Heavier Than Expected
The image above is spinning counterclockwise as expected with a low pressure center passing. Notice the red-orange over southern Lake Michigan, which is headed, arcing counterclockwise, toward the north suburbs in Lake County and Cook County and northwest Cook County. There is probably more intense snowfall headed our way in northwest Cook County for the afternoon and evening hours.
SNOW ACCUMULATION/DEPTH
5.00 INCHES @ 03:20 PM
2.25 INCHES @ 01:20 PM
1.62 INCHES @ 12:20 PM
SNOW STARTS @ 11:10 AM
Air temperature dropped from 35°F to 32°F as snow began to fall. Snow is drifting, which is remarkable because the snow is very wet. Some snow drifts are over 8 inches.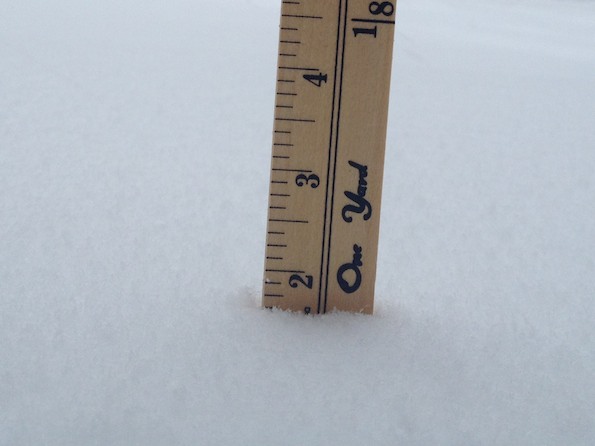 Immediately, the snow storm dumped 1 5/8″ of snow in 70 minutes from 11:10 a.m. to 12:20 p.m. Forecasters thought initial snowfall would melt, and not accumulate. At 1:20 p.m. accumulation was 2.25 inches in Arlington Heights.
Dry, warmer air is expected to work its way northward and shut down the heavy snowfall, especially in the south suburbs. The system has moved a little further north than expected. While we're getting heavier snow now, maybe even heavier than expected; the heavy snowfall might start to taper off sooner than expected. If snowfall doesn't taper off before midnight, we'll likely get more than the 4.9 inches initially forecast to occur by midnight — more like 6 or 7 inches by midnight.
Several crashes have occurred on roadways in the northwest suburbs. Most police departments are on their "accident plan" which means that crashes that don't involve injuries or involve vehicles that are drivable are to be reported at the police station.
Become a fan of The Cardinal weather page. Submit your pictures or just stay up-to-date on weather topics — go direct to the Arlington Cardinal Weather photos. For a list of all of The Cardinal Facebook fan pages, go to Arlingtoncardinal.com/about/facebook …