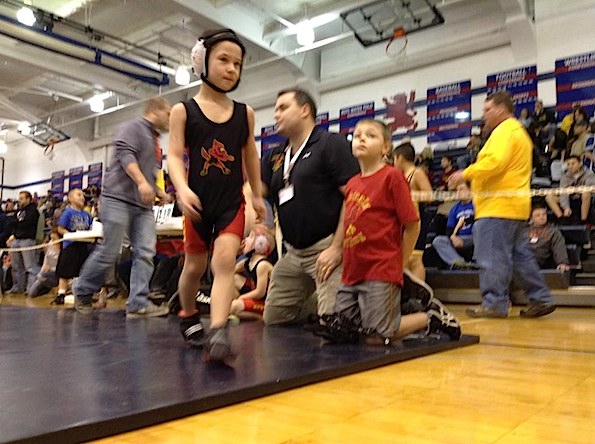 A member of the Arlington Cardinals Wrestling Club enjoys the feeling of a recent victory at "The Mid-Winter Massacre" wrestling tournament at St. Viator High School, Sunday, January 6, 2013.
St. Viator High School athletic facilities were packed Sunday, January 6, 2013 for the Arlington Cardinals Wrestling Club (no affiliation with The Cardinal — Arlingtoncardinal.com) tournament known as "The Mid-Winter Massacre" (formerly known as the St. Valentine's Day Massacre).
Hundreds of athletes age participated in the tournament from about 9:00 a.m. until about 3:00 p.m.
The Cardinal wrestling program is a team that regularly places in the Illinois Kid's Wrestling Federation State Tournament. Individuals from the Cardinals have gone on to be the most successful wrestlers at their High School. These wrestlers include Ben Zintak (Prospect), Dave Stoltz (Hersey), Bobby Joyce (St. Viators), James Kohlberg (Rolling Meadows), and Dan Collings (Palatine). Our recent IHSA state champions include Matt Boggess (Prospect, 2009), Scott Carlson (Wauconda, 2009), and Danny Sabatello (Stevenson, 2010/2011). In 2012, Matt Rundell became a State Finalist as a freshman at Oak Park River Forest. Many of our wrestlers have gone on to achieve further success at the college level at places such as Harvard, Northwestern, Illinois, Indiana, Truman State, Loras, and the United States Marines.
See photo albums here and here …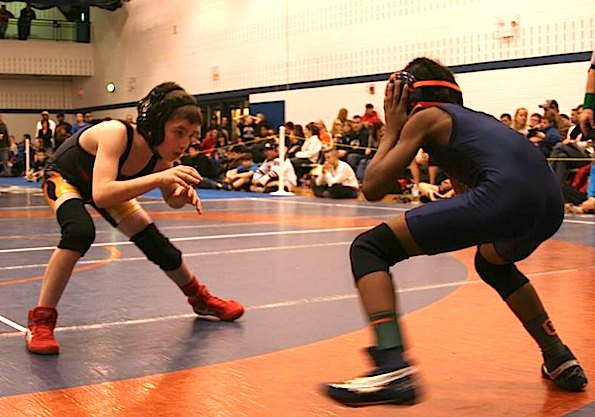 Wrestlers getting started at The Mid-Winter Massacre hosted by the Arlington Cardinal Wrestling Club.
Teams in the tournament included the following …
Arlington Cardinals
Main Eagles
Crystal Lake Wizards
Oak Park
Libertyville
Wheaton Warrenville Tigers
Junior Grens
Waubonsie W.C.
Notre Dame
Leyden Wolf Pack
St Charles East
Vittum Cats
Edge W.C.
Buffalo Grove Bison
Lake Zurich cubs
St Tars
SouthSide Stallions
Rambler W.C.
Izzy Style
Windy City Eagles
St Pat
Palatine Panthers
Bulldogs
Batavia Pinners W.C.