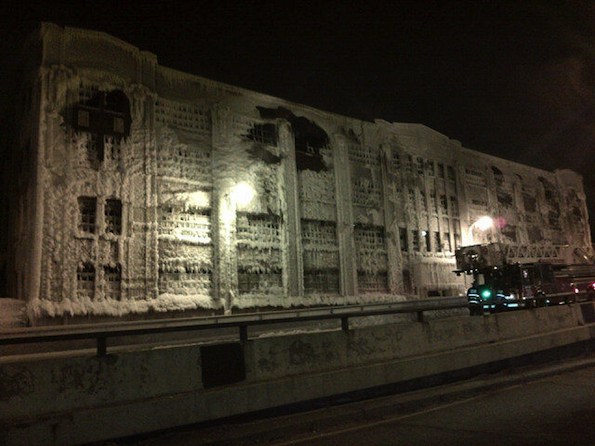 A frozen facade is a far contrast from last night's 5-11 Alarm response with two Special Alarms at 37th Street and Ashland Avenue.
About 9:00 p.m. Tuesday night a Special Operations Chief spotted a fire in a vacant warehouse on Ashland Avenue between 37th Street and 38th Street. Initially and except for the freezing temperatures, the fire sounded routine on the fire radio with a request for "Working Fire" and then a "Still and Box" response — the next level up. Then the Battalion Chief warned, there's going to be more to this. By 9:28 p.m. the fire response was raised to a 3-11 Alarm. By 9:43 p.m. the fire alarm was elevated to a 5-11 alarm. A fourth ladder tower truck and the spare snorkel truck was requested.
VIDEO: Chicago 5-11 Alarm at 3757 South Ashland with Radio Traffic.
The air temperature was only 9°F at the start of the fire with winds from the west northwest at 10 mph. The conditions are extremely difficult during firefighting because hydrants can be frozen or difficult to open, ice builds up on equipment, and hoses are harder to flex — not to mention the pain of frostbite and other cold weather hazards on the firefighters' hands, faces and bodies. Apparently only one firefighter suffered an injury — an injury to his back.
At about 10:06 p.m. a special alarm for three more ladder trucks was called. Ice buildup on ladder truck can cause the ladders to fail or even collapse. The City of Chicago Water Department brought out equipment to apply steam heat to the ladders to melt off the ice.
At about 10:11 p.m. a special alarm for four more fire engines was requested.
At about 10:20 p.m. Chicago Fire Department Helicopter 6-8-1 was called out to survey the fire operations from above. The crew in the helicopter reported the buildings were well-protected on the north (upwind), but that it was difficult to discriminate the fire building from the exposure buildings. The crews was keeping an especially sharp eye for areas of building that were at risk of collapse. Firefighters on the ground were ordered back from "collapse zones" where the building — weakened by fire damage — can collapse suddenly with a gust of wind or direct hit with a master stream of water from fire equipment.
At about 11:20 a.m. CFD Helicopter 6-8-1 reported that the fire crews on the ground were making good progress on the fire. The battle turned toward the firefighters' favor.
Firefighting operations captured by Larry Shapiro (© Copyright Shapiro Photography).
At 7:00 a.m. firefighters still had four master streams on the fire — putting out hot spots.
From about 6:30 a.m. to 7:30 a.m. firefighter units were exchanging crews. Yesterday's firefighters were replaced with a new 24-hour shift of firefighters. Some of the equipment returned to their firehouses in limited service. The crews reported half their hoses were frozen, and needed to be thawed out in the firehouse, and readied for another day of firefighting in Chicago.
Check the live report from last night's 5-11 fire, including photos and link to phot albums, at CHICAGOFIREMAP.NET
5-11 ALARM WAREHOUSE BUILDING FIRE AT ASHLAND AVE AND 38TH ST, CHICAGO
Summary report from ABC 7 NEWS Chicago from Jessica D'Onofrio …
Breaking report from ABC 7 NEWS Chicago on Tuesday's 10:00 p.m. news …