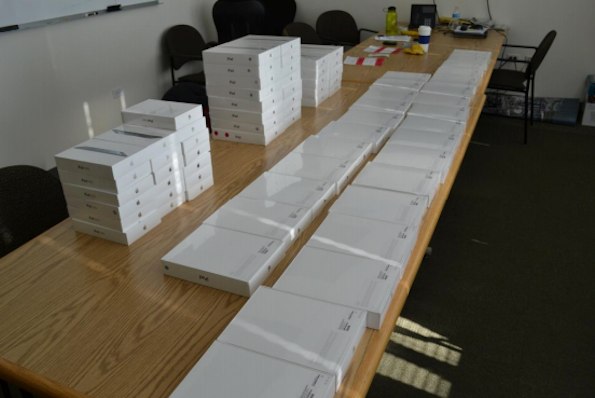 Apple iPads recovered during "Operation Whoville" in Chicagoland.
More than 100 individuals have been arrested and charged following a month-long holiday undercover investigation that targeted organized retail theft rings, whose members are stealing hundreds of thousands of dollars in merchandise from large malls and shopping centers across Cook County, State's Attorney Anita Alvarez announced today.
The investigation, dubbed "Operation Whoville," involved a series of separate covert undercover sting operations at six Chicago-area malls including North Riverside, Old Orchard, Orland Square, and Woodfield, as well as Gurnee Mills and the Aurora Outlet Malls. Arrests were also made at shops on Michigan Avenue and State Street in Chicago.
A total of 108 individuals were arrested over the last month and charged with theft of a wide variety of products including clothing, electronic products and jewelry as well as the large-scale theft of over-the-counter medicines and baby formula from big box retail outlets. Authorities also recovered narcotics and guns from several suspects during the operation.
The operation targeted individuals as well as persons operating in organized retail theft crews, who steal product from retailers at great cost, and then pass along the stolen goods to major "fencing" operations who resell them for significant untaxed profits throughout Cook County and in neighboring counties and states. According to investigators, the crews generally work in groups and they designate a time and location for the thefts, targeting retail outlets to shoplift particular merchandise.
The month-long intelligence and enforcement operation was coordinated by the State's Attorney's Regional Organized Crime Task Force (CCROC), a group of law enforcement and retail partners formed by the State's Attorney's Office to combat the growing crime of organized retail theft and fencing. State's Attorney Alvarez said the operation is timed to prevent as much organized retail theft as possible during the busy holiday shopping season.
"Large scale retail theft and fencing has become so rampant and so sophisticated that the average holiday shopper may not even realize it is happening around them," Alvarez said. "This crime is increasing and it is important that we take action to stem the tide because it is individual consumers who suffer the most when they are forced to pay higher prices because of significant losses due to theft."
The crime of organized retail theft involves groups of shoplifters, known as "boosters," who work together to steal specific items. These items are often then taken to individuals known as "fences" who buy stolen goods and then resell them and reap significant, untaxed profits when resold. These fencing operations are also known to finance other criminal activities.
Thefts by boosting crews result in billions of dollars a year in losses that retailers pass on to consumers. Nationwide this "theft tax" is estimated to cost each consumer an additional $500 a year. This crime further hits taxpayers when local governments lose out on sales tax revenues. It is estimated that the State of Illinois loses $77 million dollars a year in revenue as a result of shoplifting and organized retail theft.
Sensitive items, such as over the counter medicines and baby formula, pose a significant threat to public health and safety when they are handled in unsafe or unsanitary conditions by thieves. In some cases, these items have been found for sale to unsuspecting consumers with altered or erased expiration dates. These criminal enterprises are also known to sell counterfeit medications, perpetrate public aid fraud and launder money.
The arrests help develop information on individuals buying stolen property but have also led law enforcement to identify others engaging in a litany of other crimes including credit card fraud and public aid fraud. Recently, information developed through CCROC led to the arrest of several individuals involved in a widespread credit card fraud ring. The defendants were re-encoding Target Gift Cards with stolen credit card numbers and using them to buy high end electronics. When they were arrested, authorities recovered 85 iPads, valued at over $50,000, as well as $10,000 in cash, numerous iTunes gift cards, a handgun, and equipment used to re-encode gift cards.
The investigative partners in the operation included the Chicago Police Department, Skokie Police Department, Niles Police Department, Schaumburg Police Department, South Barrington Police Department, Aurora Police Department, Cook County Sheriff's Police, Illinois State Police, Schiller Park Police Department, Vernon Hill Police Department, Gurnee Police Department, Orland Park Police Department, Tinley Park Police Department and the Matteson Police Departments.
The operation also received major support from private sector retailers including Target Corporations, JC Penney, Sears, Wal-Mart, Sam's Club, Macy's, Neiman Marcus, Sak's Fifth Ave, Old Navy, Limited Brands, Victoria's Secret, Banana Republic, The Gap, Walgreens, Jewel-Osco, Dominick's, OfficeMax, Food for Less, Meijer's, American Express, Abercrombie, Hollister, Toys R Us, and Sport's Authority.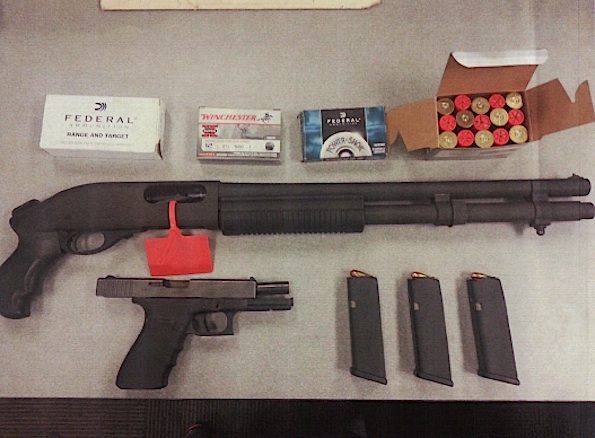 Guns recovered during "Operation Whoville" in Chicagoland.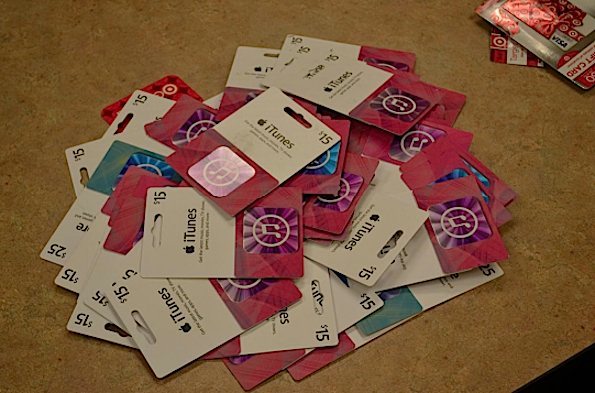 Apple iTunes gift cards recovered during "Operation Whoville" in Chicagoland.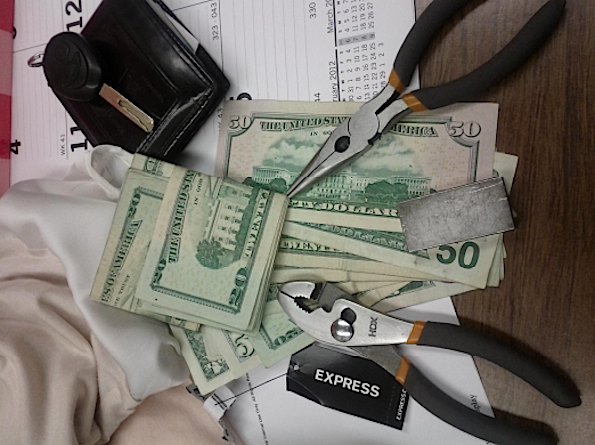 Cash and tools recovered during "Operation Whoville" in Chicagoland.