Winter "Course Management" Driving
By Sergeant Scott Kristiansen – Buffalo Grove, IL.- Police Department
The winter driving season is fast approaching and our ability to drive safely in it can be found in a lesson I received while playing golf. Last fall I had the opportunity to golf in a foursome that included my brother-in-law and his 88-year-old father. My brother-in-law's father is an avid golfer who has been playing most of his life, so in spite of his age I was confident he would be able to keep up with us. As the day progressed it became quite clear that he would not only be able to keep up but that he would actually challenge us youngsters to win each hole. At the end of the day my bother-in-law's 88-year-old father had won the round with a score three strokes below his age.
There is no doubt that he was familiar with every club in his bag. He explained there was much more to playing a good round of golf than just choosing the right club. His grip, stance, swing, and follow through all contributed to his winning round. He knew his physical capabilities and also his clubs capabilities in a variety of situations.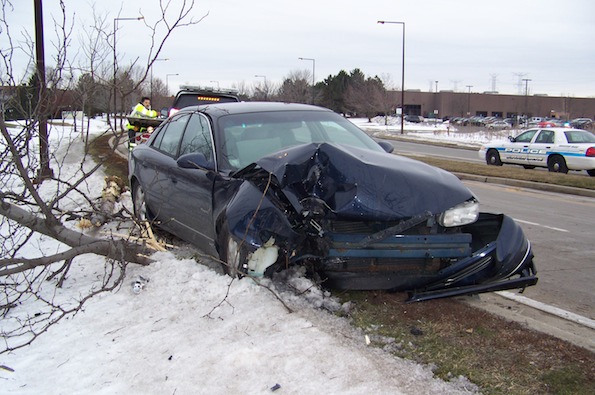 Winter Driving challenges all drivers (PHOTO CREDIT: Buffalo Grove Police Department).
Winter driving presents a number of challenges to both you and your vehicle. Cold weather driving not only tests your ability as a driver it can also test the limits of your cars mechanical capabilities. Modern vehicles have a number of safety features that can help you drive safely in winter conditions. These include anti-lock brake systems (ABS), stability control, traction control, electronic brake-force distribution and adaptive cruise control. Knowing how these safety features work on your vehicle especially in winter driving conditions can help you be prepared for the inevitable snow and ice covered roads.
As I watched a recent PGA event I noticed that after the golfers completed their rounds many of them went to the practice range to work on various aspects of their game. Like professional golfers we need to practice to help improve our winter driving skills.
Practice
Every vehicle handles differently, no matter what the weather conditions. This is especially true when you're driving on snow or ice. Whether you are just learning how to drive or are a seasoned driver, you need to make sure you know how your vehicle handles in winter driving conditions. I suggest after a storm you go to a large, empty parking lot and see how your vehicle reacts in the winter weather conditions. There are three things every driver should try to practice. These are braking, both normal and emergency, turning and how to react to a skid.
Braking
Winter driving conditions can dramatically affect the braking distance of a vehicle. The first thing you should practice is normal braking. By practicing normal braking you can get a sense of how much longer it will take your vehicle to stop on ice or snow. You should also practice emergency braking. This can be done by activating your anti-lock brake system. This is important because when the ABS system activates it feels much different than regular braking. If you've never felt your ABS system activate it could startle you. Get your vehicle up to 25 miles per hour and stomp on the brakes. Do not let off the brakes and see how your vehicle reacts. You should feel a rapid "pulsing" in the pedal and might hear what sounds like a grinding noise. It almost seems like the brakes are not working properly and can surprise you if you're not expecting it. When using anti-lock braking never let off the brake pedal and make sure to apply constant pressure until you stop.
Turning
Drivers should practice turning to see how much traction is lost on icy or snow covered roadways. After a few practice turns you should get a good feeling on how fast you can turn safely without loosing control.
Escaping from Skids
Finally, drivers should practice controlling their vehicles in the event they lose control and go into a skid. Skids can be a frightening experience. If you should loose control and go into a skid, stay calm and ease your foot off the gas. Steer in the direction you want the front of your car to go, and do not apply the brake or gas until the vehicle is back under control. Steering into the skid will bring your vehicles back end in line with the front.
Course Management
Golf is a game that requires not only physical skills but mental concentration. Professional golfers say that one of the most important parts of their golf game is "Course Management". Knowing how to think your way around the golf course can save a golfer numerous strokes. I personally think that the mental part of the game is the most important aspect of playing golf and driving a vehicle. When it comes to winter driving it is important to plan ahead, think about the weather conditions, where you are going, and what hazards you might encounter. This is the best way to avoid trouble.
Here are some tips that can help you with your winter driving course management:
Clean your windshield
Make sure all your windows are clear before you start driving. Don't be a peephole driver! Use your defroster and scrape all ice and snow from all your windows – even if you're only going a short distance.
Slow Down
The number one cause of winter vehicle crashes is driving too fast for the conditions. This is especially true if the road surface is snow or ice covered. There is no such thing as a safe speed you can drive on snow or ice. You must be extremely cautious until you are able to determine how much traction you can expect. Lowering your speeds gives you more time to ensure you can stop when needed.
Leave Room
Maintain a safe interval between you and the car ahead of you. Many needless rear- end crashes occur on icy streets because drivers forget to leave enough stopping distance. A good practice is to double the distance you normally allow between you and the car in front of you.
Look ahead
When driving in winter conditions it is important to look ahead and get ready for corners or other obstacles before you get to them. Anticipate problems and be prepared to react to inattentive drivers who are not adjusting their own driving for the weather conditions.
See these additional tips that can also help make your winter driving experience safer:
Foggy windshield
If your car's front windshield is fogged up, turning the A/C on air-recirculation, with a front window slightly open, will remove the moisture more quickly. If the inside of your vehicle is very hot and moist the A/C is better turned on "Fresh Air".
Turn off your cruise control
When the road is slick or slippery make sure to turn off your cruise control system. Snow, ice, slush or even rain can cause wheel-spin and loss of control. The cruise control in you car or truck is designed for normal road conditions. It doesn't know when the pavement is slippery. Under slick conditions, you need to be in complete control and continuously monitoring road conditions. When your tires hit a slick spot and lose contact with the roadway your cruise control is not able to adequately sense the roadway conditions. An activated cruise control system will continue to apply power, keeping the wheels spinning. When the tires make contact with firm road again, the car can skid or lose control.
Stuck in the Snow
Traction control uses the anti-lock braking system to prevent your wheels from spinning when you accelerate. If you are stuck in a pile of snow, snowdrift or parking space sometimes the only way out is to hit the gas and let the wheels spin until they dig down and grab onto something. Another way to get out of a snow drift is by rocking your car back and forth between drive and reverse until you can build up enough momentum to get over the hump of snow that's blocking you. Traction control prevents you from using those techniques. With traction control on, as soon as a wheel starts to spin, the brake gets applied to that wheel — preventing you from going anywhere! Some vehicles' traction control systems are so sensitive that they can make a car stop dead in its tracks with only a small amount of snow. In cases like this, you want to turn off your vehicle's traction control, get out of the snow bank or parking space and then, as soon as you get going, turn the traction control back on.
Advancements in vehicle safety can protect us in crashes and in some cases even prevent them. Like a good golfer, to be most effective we need to know how our tools work and practice with them under a variety of situations. Using winter "Course Management" driving will help you to have a safe and hopefully crash free season.