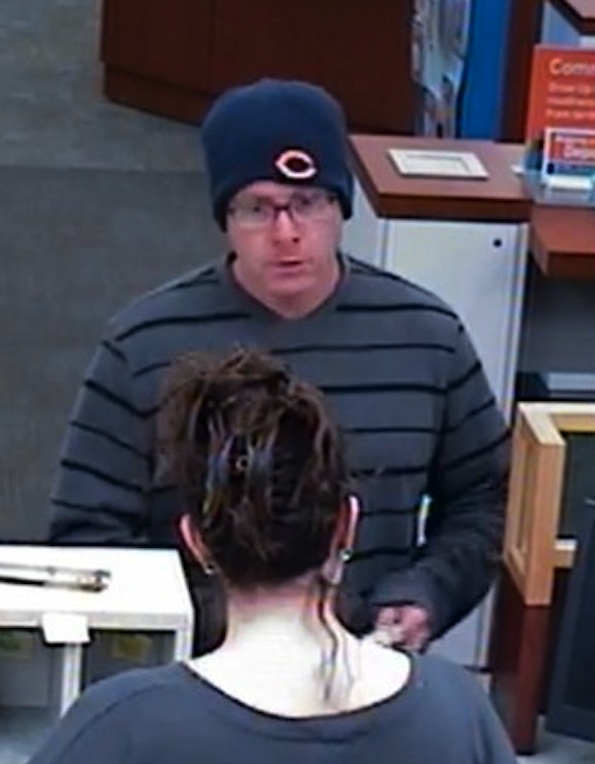 Surveillance video still showing bank robbery suspect at PNC Bank, 1177 West Lake Cook Road in Buffalo Grove.
Buffalo Grove police responded about 4:57 p.m. Monday to the PNC Bank, 1177 West Lake-Cook Road after a bank robber approached a bank teller and demanded money. No weapons were displayed or implied during the incident. The offender left the bank with an undisclosed amount of U.S. cash.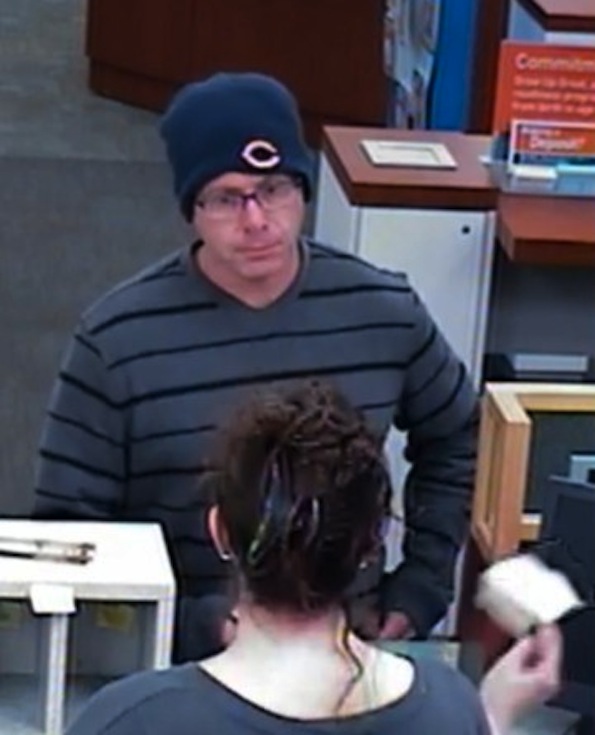 Surveillance video still showing bank robbery suspect at PNC Bank, 1177 West Lake Cook Road in Buffalo Grove.
The offender was described as a white male, approximately 5'8″ tall, wearing a Chicago Bears stocking cap, glasses and a gray sweater with dark blue or black stripes.
Banks at the address have been robbed with arrests at least three times in recent years — twice in 2008 and once in 2006.
A "Takeover Robbery" occurred on September 13, 2008 when seven employees were bound with plastic ties and one employee was beaten at the bank building — then a National City Bank. A detailed description of the two offenders' vehicle was given at the scene by witnesses at the bank. Witnesses reported two black males with guns fled the robbery with a bag of money. Witnesses reported seeing people laying on the floor at the bank.
Police and FBI units caught up with the offender's dark gray Lexus with Minnesota license plates, after the vehicle was reported southbound on Route 53 and then eastbound on Interstate 290. A pursuit began in the area on Interstate 290. The pursuit ended minutes later at Racine and 18th street with the offenders in custody after a crash at Racine and 21st in Chicago. The suspect's vehicle crashed into Irv's Bike Shop, 1725 S. Racine Ave in Chicago's Pilsen Neighborhood. A Chicago police officer was injured in the crash.
Suspects Shon Williams, 40, and Benyusef Hicks, 35, were charged with robbing the National City Bank in suburban Buffalo Grove after fleeing with $12,000 from bank robbery on Saturday September 13, 2008. Shon Williams is a former All-Chicago area football team (1986) and King High School student, former University of Miami lineman, and was subsequently fired from his job as a DuSable High School football coach. Williams was 6-2, 270 pounds as a lineman.
Benyusef Hicks is serving a 30-year sentence for home invasion after he was arrested on August 17, 2009 and convicted in September 2011.
Initial research for Shon Williams discovered no record of conviction or court dates. Williams was still in the hospital on September 19, 2008 after the crash that ended the police chase.