NASA astronaut Neil Armstrong died Saturday, August 25, 2012. He was the first human being to walk on the surface of the Moon. His first spaceflight was the NASA Gemini 8 mission in 1966, but he's famous for proclaiming as he stepped on the Moon on July 20, 1969, "That's one small step for a man, one giant leap for mankind." The estimated global audience at that moment was 450 million listeners. For a little perspective, the Super Bowl record for U.S. viewers was set this year at 111.3 million viewers.
The Daily Caller's Jim Treacher laments that a tribute to Neil Armstrong on Barack Obama's Tumblr page has a picture of the president himself, instead of a picture of Neil Armstrong or presumably lunar operations involving Neil Armstrong. The Daily Caller found a post in the blog SOOPERMEXICAN that discovered that the same photo (on Flickr) of Barack Obama pondering the Moon on April 24, 2012 was posted (on Tumblr) as a picture that implied a sweet moment showing Barack Obama as he looked at the Moon and pondered the accomplishments of Neil Armstrong after his death.
What some might find most stunning is not that the photo showed an egotistical nature of the president, but that the photo reveals the lack of authenticity in the use of the photo. Any astronomer, lunar fan, or NASA expert would know that in the earth's view of the sky during the weekend of Neil Armstrong's death, Venus wasn't anywhere near the Moon (as shown in the April 24, 2012 photo). Also, on the day of Neil Armstrong's death, the Moon was a Waxing Gibbous Moon (66.6%) following a First Quarter Moon, not a Waxing Crescent Moon (12.8%) prior to a First Quarter Moon (as shown in the April 24, 2012 photo). Using stock photos is usually cheesy. Using stock photos to depict or honor one of the greatest human achievers and achievements in history is beyond cheesy.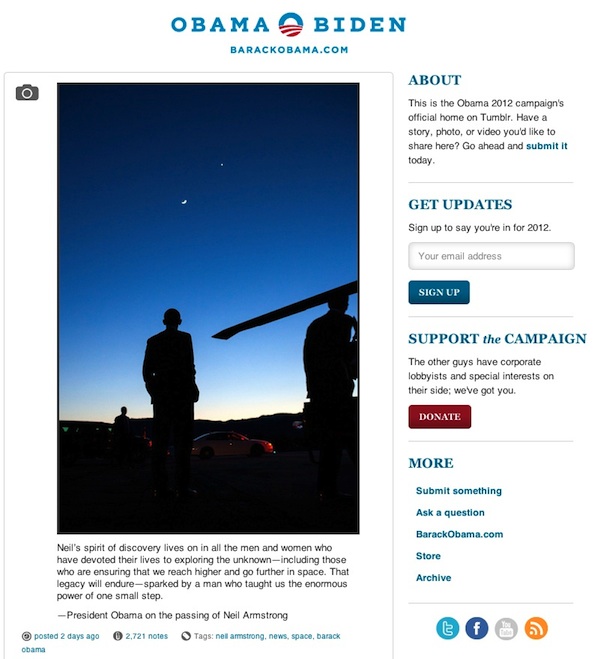 Neil's spirit of discovery lives on in all the men and women who have devoted their lives to exploring the unknown—including those who are ensuring that we reach higher and go further in space. That legacy will endure—sparked by a man who taught us the enormous power of one small step (Barack Obama Tumblr account entry Saturday, August 25, 2012).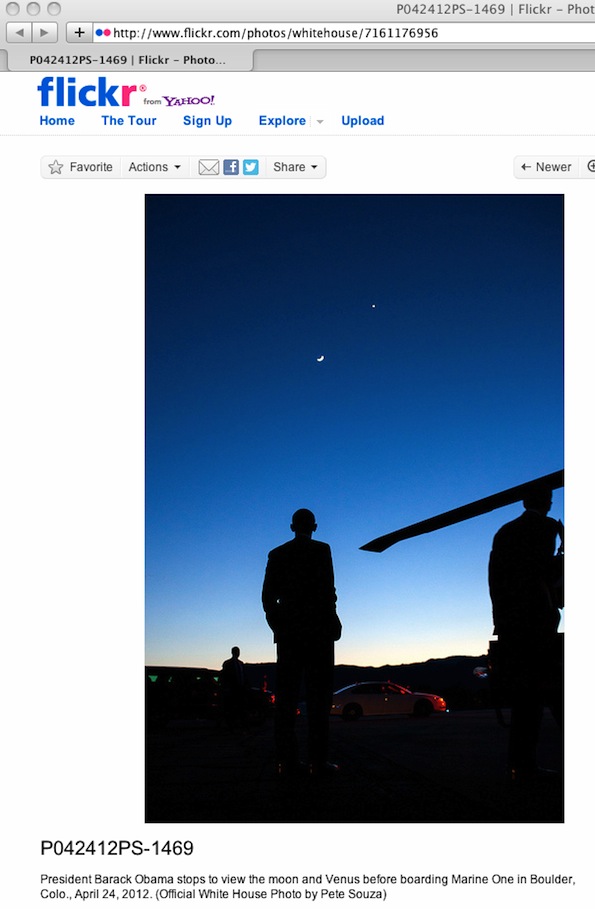 President Barack Obama stops to view the moon and Venus before boarding Marine One in Boulder, Colo., April 24, 2012. (Official White House Photo by Pete Souza)
The family of Neil Armstrong, the first man to walk on the moon, reported he died at age 82 on Saturday, August 25, 2012.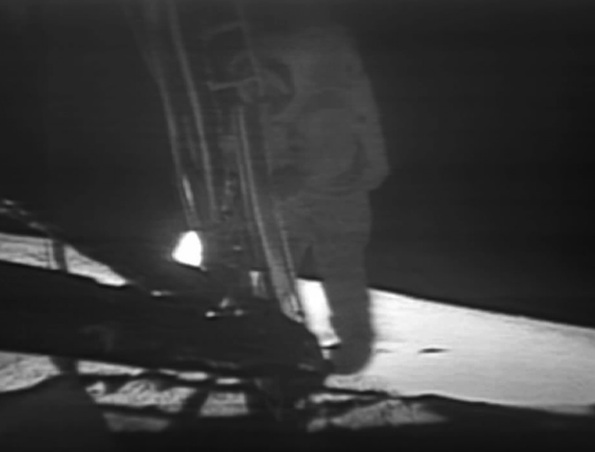 Neil Armstrong's first step on the Moon on July 20, 1969 (NASA image).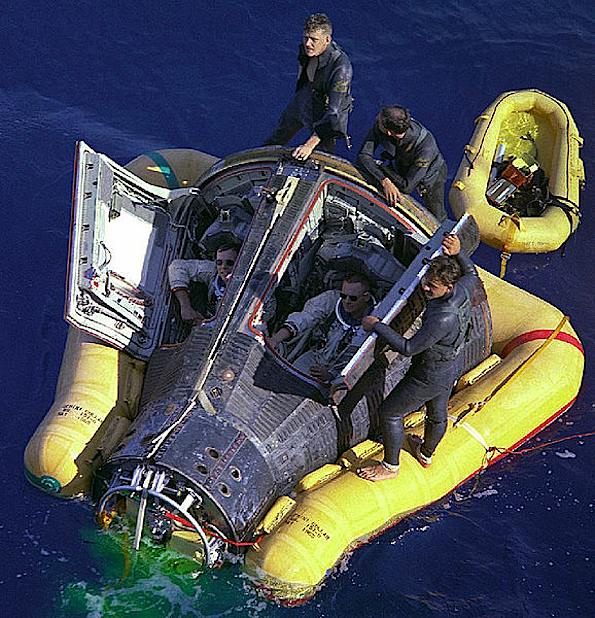 Gemini 8 After Splashdown on March 17, 1966 with Neil Armstrong on the right of picture in capsule (NASA photo).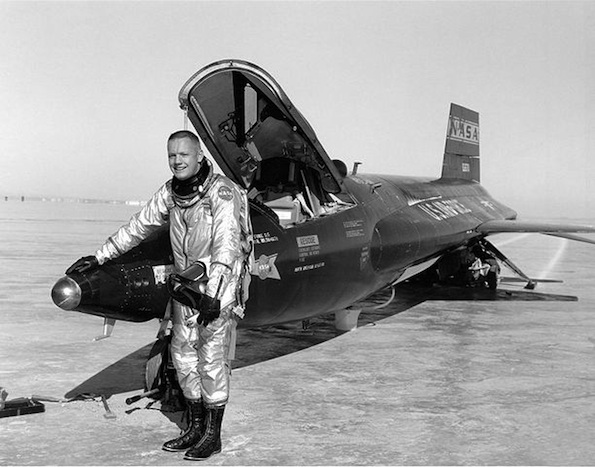 Experimental aircraft X-15 and Neil Armstrong on January 1, 1960 (NASA photo).