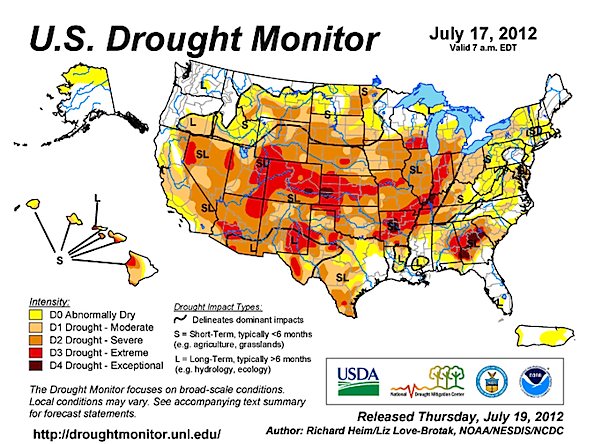 U.S. Drought Monitor Map for July 17, 2012 (See current data at droughtmonitor.unl.edu).
As of July 23, 2012 the United States is experiencing the worst drought conditions since 1956. Currently the drought is considered in third place compared to the Dust Bowl ranging from 1930 to 1936 (some areas until 1940), and a United States drought during the 1950's. Dryness and drought, exacerbated by above-normal temperatures, have been increasing both in extent and intensity across much of the central and northern U.S. Based upon the July 10 U.S. Drought Monitor, nearly 61 percent of the contiguous U.S. was in drought (D1-D4), the highest such value for the U.S. Drought Monitor since its inception in 2000. The drought and heat arrived at a critical time for Midwestern agriculture, especially corn.
According to the National Weather Service, the combination of heat and dryness has severely reduced the quality and quantity of the corn and soybean crop, with 38 percent of the corn and 30 percent of the soybeans rated as poor or very poor as of July 15 by NASS/USDA. Some states, such as Kentucky, Missouri, and Indiana, had over 70 percent of their corn adversely rated. Unfortunately, drought is expected to develop, persist, or intensify across these areas, and temperatures are likely to average above normal. Some widely-scattered relief may come in the form of cold front passages or organized thunderstorm clusters (MCSs), but widespread relief for much of the area is not expected.
In the Southeast, recent widespread thunderstorm activity has slightly eased drought there, and the 3-month outlook favors increased odds for above normal precipitation along the central Gulf. This is due to the greater likelihood of a tropical system affecting these areas and from sea-breeze triggered thunderstorms. Therefore, some improvement is expected across the Deep South, from coastal Texas eastward to South Carolina. Across the Southwest, the odds favor an active (wet) southwest monsoon in both the 1- and 3-month precipitation outlooks. As a result, improvement is anticipated across much of Arizona and western New Mexico as the summer monsoon continues, with some improvement in other parts of the region.
Drought persistence is the best bet across the remaining portions of the Western U.S. since late summer and early fall are typically dry. In Hawaii, subnormal seasonal rainfall is expected which should maintain drought on the leeward (west) sides while expanding it toward the windward (east) sides.
Lastly, an El Niño Watch continues, with the forecaster consensus reflecting increased chances of an El Niño beginning in July-September. El Niño/La Niña-Southern Oscillation, or ENSO, is a climate pattern that occurs across the tropical Pacific Ocean roughly every five years. The Southern Oscillation refers to variations in the temperature of the surface of the tropical eastern Pacific Ocean (warming and cooling known as El Niño and La Niña respectively). Winters, during the El Niño effect, are warmer and drier than average in the Northwest, Northmidwest, and Northmideast United States, and therefore those regions experience reduced snowfalls. Meanwhile, significantly wetter winters are present in northwest Mexico and the southwest United States including central and southern California, while both cooler and wetter than average winters in northeast Mexico and the southeast United States (including the Tidewater region of Virginia) occur during the El Niño phase of the oscillation.
El Niño patterns are credited with suppressing hurricanes and made the 2009 hurricane season the least active in twelve years.
The lead up to the drought …
The current dry conditions cover 80 percent of the contiguous United States with at minimum abnormally dry (D0) conditions. The drought areas are similar to previous droughts in the 1930's and 1950's. The drought of 2012 began when a strongly positive Arctic oscillation and North Atlantic oscillation stopped winter storms from forming in the United States. In spring there was very little snow to melt and keep the ground moist. Droughts cause hardened ground, which causes fast runoff of rainwater when rain does occur. On the plus side, the dry soil contributed to a weak tornado season in 2012.
More than 1,297 counties in over 29 states in the US have been declared natural disaster areas as of July 18, 2012 as the drought spreads to 60% of the contiguous US.
In March 2012, one of strongest Spring heat waves on record was observed in many regions of North America. Beginning March 6, 2012, very warm air pushed northward west of the Great Lakes region, persisted for the rest of the month, and spread eastward. Eight record high temperatures were broken in March 2012. On March 15, 2012, a 'Pneumonia Front' — a rapid drop of air temperature was forecast for Chicagoland, but the warm air of March 2012 overpowered the front and held it near Lake Michigan in communities, such as Winnetka and Wilmette.
Temperatures in Spring Heat Wave March 2012 at O'Hare International Airport, Chicago (normal highs are in the 40's)

March 01, 2012 … 40°F
March 02, 2012 … 40°F
March 03, 2012 … 35°F
March 04, 2012 … 32°F
March 05, 2012 … 37°F
March 06, 2012 … 68°F
March 07, 2012 … 68°F
March 08, 2012 … 63°F
March 09, 2012 … 40°F
March 10, 2012 … 60°F
March 11, 2012 … 69°F
March 12, 2012 … 65°F
March 13, 2012 … 70°F
March 14, 2012 … 81°F (RECORD HIGH)
March 15, 2012 … 81°F (RECORD HIGH)
March 16, 2012 … 82°F (RECORD HIGH)
March 17, 2012 … 82°F (RECORD HIGH)
March 18, 2012 … 81°F (RECORD HIGH)
March 19, 2012 … 78°F
March 20, 2012 … 85°F (RECORD HIGH)
March 21, 2012 … 87°F (RECORD HIGH)
March 22, 2012 … 83°F (RECORD HIGH)
March 23, 2012 … 63°F
March 24, 2012 … 61°F
March 25, 2012 … 71°F
March 26, 2012 … 47°F
March 27, 2012 … 74°F
March 28, 2012 … 68°F
March 29, 2012 … 48°F
March 30, 2012 … 53°F
March 31, 2012 … 50°F
The record warmth of March 2012 followed record warmth in October 2011.
October 2011 produced 70′s and 80′s
October 10 High 76°F
October 09 High 80°F
October 08 High 82°F
October 07 High 84°F
October 06 High 81°F
October 05 High 80°F
October 04 High 76°F
October 03 High 69°F

(a long stretch of warm air, but no RECORD HIGHS)
Impact of drought in coming weeks and months …
Several unpleasant and even dangerous situations can be expected because of the drought conditions. Drought conditions are expected at least through October 2012, and possibly further into next year with El Niño conditions.