Arlington Heights Fire Department and Local #3105 will hit the streets to Fill their Boots on Friday, May 11th to raise money for the Muscular Dystrophy Association (MDA).
Fire Fighters will be asking for donations from 6:30 a.m. to 10:30 a.m. and again from 3 p.m. to 7 p.m. at the following intersections and locations: intersection of Palatine Road & Arlington Heights Road, intersection of Northwest Highway & Arlington Heights Road; at the Metra Station on the Vail Street side and Dunton Street side.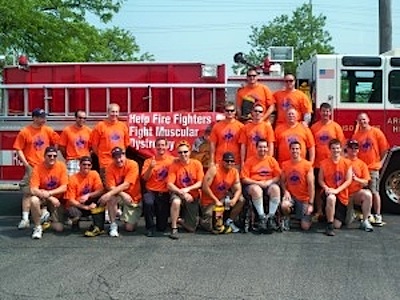 Local #3105 and volunteer team for MDA Fill the Boot.
Ted Peterson, the Fill the Boot coordinator for Local #3105, would like supporters to know that your donations go a long way in the fight against neuromuscular disease.

"Be proud of the fact that together we're providing help and hope to kids and adults served by MDA in our community," Peterson said. "I would also like to thank the many Fire Fighters that donate their time to make this possible."
This year, 102.3 XLC FM and 103.5 KISS FM will also be flexing their muscles for MDA and supporting Fire Fighters with station giveaways for donations.
102.3 XLC FM will be out between 8 a.m. and 10 a.m. 103.5 KISS FM will be out from 4 p.m. – 6 p.m. Both stations will be at the intersection of Palatine & Arlington Heights Road. Supporters can also tune into WGN TV Channel 9, who will be broadcasting live on location at 7 a.m.
Last year, Arlington Heights Fire Department and Local #3105 grossed $14,019.97 during their "Fill the Boot" efforts. Fire Fighters nation-wide raised more than $24 million, in 2011, for MDA research, equipment, programs, camps and more.
"Fire fighters throughout the U.S. have been one of the biggest supporters of the MDA for decades," said Amanda Repp, a fundraising coordinator for MDA Chicago. "The funds raised from this boot drive will stay local, and will help ensure that local families continue to receive the services they need."
Arlington Heights Fire Department and Local #3105 would like to thank Arlington Ford, Jewel, Mariano's, Valli Produce and Gatsby's Restaurant & Pub for all of their support.
If you are unable to stop by any of the intersections Fire Fighters will be at, you can visit www.iafflocal3105.org/mda to make a secure online donation where 100 percent of the proceeds go towards MDA services being provided to families in need.
MDA is the nonprofit health agency dedicated to curing muscular dystrophy, ALS and related diseases by funding worldwide research. In addition to funding more than 330 research teams worldwide, MDA maintains a national network of some 200 hospital-affiliated clinics; orchestrates hundreds of support groups for families affected by neuromuscular diseases and facilitates extraordinary local summer camp opportunities for thousands of youngsters fighting progressive muscle diseases.
Videos from last year …
Interview with MDA Fundraising Coordinator Amber Pichiotino and MDA Ambassador Seth Goldberg, including 'Fill the Boot' scenes at Arlington Heights Road and Palatine Road in Arlington Heights.
VIDEO: More scenes while fundraising for MDA at Arlington Heights Road and Palatine Road on Friday, June 3, 2011.