Dear Paul B Readers,
Mr. Philip Humber (no, do NOT pronounce the H–it is dead silent) is a story of character. His name, as is his personae is quite silent, a near impossibility in this enormously popular sports city. PH is 29, but was so very close to being out of baseball, it is ironic. He was "on waivers" twice in one year, which essentially means that "his team" has given up on his ability to help the team. PH is a soft spoken individual, and eschews the scrutiny of the paparazzi and spotlights of stardom. He just goes out there on the mound and pitches his heart out so that his team can win. PH pitched a perfect game last Saturday, and this was ONLY the 21st of ALL TIME! This is no simple task, since about 20,000 baseball games have been played over the last 110 plus years. Just think about that….Here is a "guy" that nobody knows. He has pitched 22 big league games, and he is just two games over the .500 mark at 12-10. How utterly amazing is this story? PH also underwent Tommy John surgery five years ago, which most pitchers do not rebound from. I am dumbfounded how THIS unknown "regular guy" has pulled off a feat so unattainable by some of the greatest pitchers EVER. I am more than impressed by his character, confidence, and charm that I had to write this piece about him. He stated that he couldn't believe that HIS name is now on this very, very short list of pitchers to have thrown a perfecto!!
PH and his wife are expecting any day, and I wish them well. With such a great deal on his mind, PH was still able to control his emotions and pitch this classic of all classics. He is a Chicago hero in my book. PH never gave up when four other teams couldn't give him away. He hung in there, kept learning his trade, and FINALLY proved to the baseball world that one's heart is as important as one's talent. Oh btw, I have to thank Don Cooper (White Sox pitching coach,) for his "outstanding eye for talent" in selecting Philip H. for our Chicago White Sox organization. Four other pitching coaches did not see what "Coop" saw. I watched this game, and will always cherish it's memory.
The perfect game by Humber and the White Sox defense involved a no-hitter and a shutout with 27 batters up, and 27 batters down in nine innings.
Hits 0, ER 0, Walks 0, SO 9, HR 0
Phillip Humber throws the 21st Perfect Game in Major League Baseball History vs. the Seattle Mariners at Safeco Field April 21, 2012. 29 Balls, 67 Strikes, Total 96
Chicago White Sox pitcher Mark Buehrle pitched a perfect game on July 23, 2009 — shutting out Tampa Bay 5-0.
The Chicago Cubs have never won with a perfect game, but were beaten in a perfect game by Los Angeles Dodger pitcher Sandy Koufax on September 9, 1965.
Another view from the stands — final pitch at 6:08 (elapsed time).
Phil Humber (left) and Gavin Floyd with THE COACH Michael E. Mayden.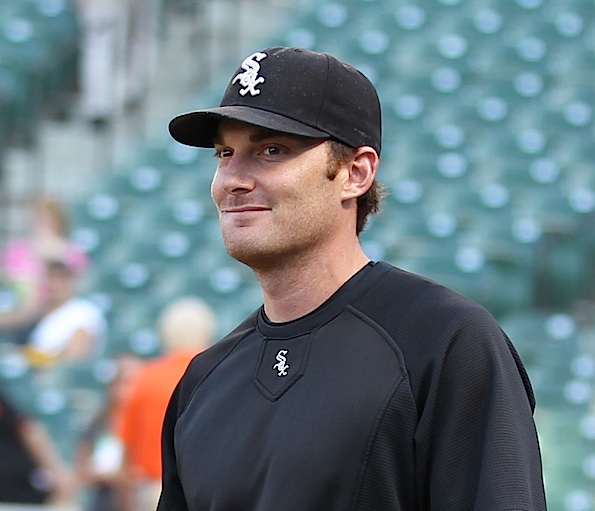 Phil Humber (born December 21, 1982 in Nacogdoches, Texas) is a Major League Baseball pitcher for the Chicago White Sox. He has pitched for the New York Mets (2006–2007), Minnesota Twins (2008–2009), Kansas City Royals (2010).
Become a fan of The Cardinal Sports page. Submit your pictures or just stay up-to-date and share sport info — go direct to the Arlington Cardinal Sports photos. For a list of all of The Cardinal Facebook fan pages, go to Arlingtoncardinal.com/about/facebook …
Become a fan of The Cardinal Sports page. Submit your pictures or just stay up-to-date and share sport info — go direct to the Arlington Cardinal Sports photos. For a list of all of The Cardinal Facebook fan pages, go to Arlingtoncardinal.com/about/facebook …