'Gymnasium' from 'Gymnasion' from 'Gymnazein' from 'Gymnos' which literally means something you would never expect. But Greek gyms weren't anything like today's Xsport Fitness, LIFETIME FITNESS, LA Fitness, or the YMCA — or except maybe the song by Village People.
"Gymnasium" comes from the Greek words "gymnasion," which meant a "public place for athletic exercises, or school for gymnastics." This comes from the word "gymnazein," which literally meant "to train naked," but was used in the figurative sense to describe any kind of exercise or athletic training. This brings us to the root word, "gymnos," which simply meant "naked."
Go ahead, ask your PE teacher. Or your Personal Trainer. The Cardinal doubts most fitness professionals will know this. It took an exercise philologist rather than an exercise physiologist to get it out there. Were you waiting for Hot for Words' Marina Orlova to deliver a punch line … and say she was just kidding?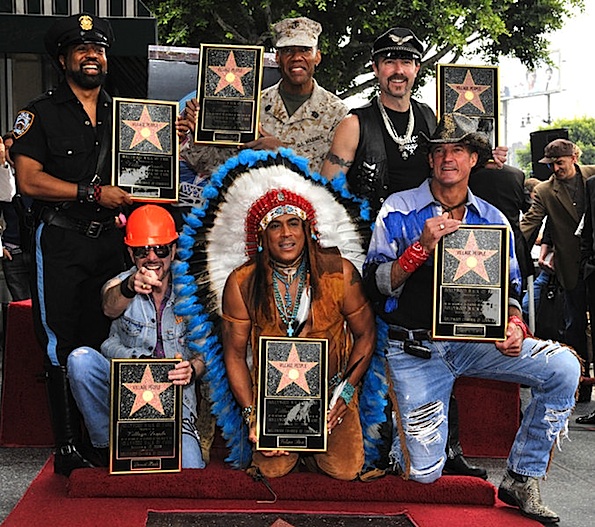 'Macho Man' … 'YMCA' …. "In the Navy" … "Go West" by Village People.
The Russian philologist has a good reputation for knowing the roots of words. Yes, the gymnasium in ancient Greece functioned as a training facility for competitors in public games, but it was also a place for socializing and engaging in intellectual pursuits.
The Ancient Greek term gymnós means "naked". Male athletes competed nude, a practice said to encourage aesthetic appreciation of the male body and a tribute to the gods.
A lot different than many of today's gymnasiums or fitness centers where up to thousands of dollars per month in testosterone, steroids, growth hormone, pre-hormonal supplements, and protein supplements help many 'champion' muscle heads and meat heads thinking they are gods — looking down on the mere mortals who just want to stay fit.