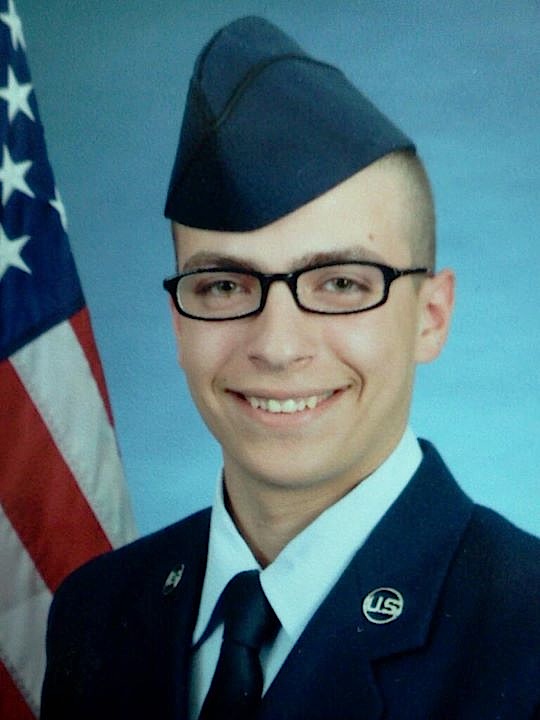 Nathaniel B Pahlow, USAF
Nathaniel B Pahlow of Arlington Heights, Illinois graduated Air Force Basic Military Training in San Antonio TX on December 30, 2011. He is currently going through technical training at Sheppard Air Force Base in Wichita Falls TX. Nathan is a third generation Airman in the Pahlow family. His father Ben Pahlow served during Desert Storm and his paternal grandfather Herb Pahlow served during the Vietnam War.
United States Air Force Basic Military Training (also known as BMT or boot camp) is an eight-and-a-half week that involves a rigorous program of physical and mental training. BMT is required in order for an individual to become an Airman in the United States Air Force, United States Air Force Reserve, or Air National Guard. BMT is carried out at Lackland Air Force Base in San Antonio, Texas, and is designed to be both mentally and physically challenging, as well as requiring the individual to quickly adjust psychologically to an unfamiliar way of life.

Sheppard Air Force Base is the largest training base and most diversified in Air Education and Training Command. The base is named in honor of Texas Senator John Morris Sheppard, a supporter of military preparations before World War II.
The 82d Training Wing (82 TRW) is the host unit, which provides specialized technical training, medical, and field training for officers, Airmen, and civilians of all branches of the military, other DoD agencies, and foreign nationals.
See more …
Air Force Basic Military Training (USAF official)