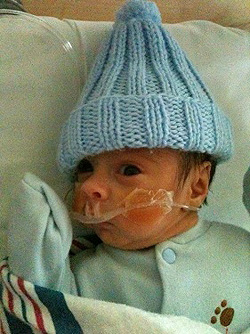 Zachary Kordik
Zachary Kordik wasn't expected for another three months, but babies sometimes have other plans. That's when a Level III Neonatal Intensive Care Unit (NICU) can mean the world to a family.
Scott and Brynn Kordik of West Dundee didn't know that Northwest Community Hospital had earned the state's highest designation of perinatal care, which allows the Arlington Heights hospital to care for premature infants of any gestational age. Today the Kordiks are thankful for Northwest Community's Level III NICU after the unexpected early delivery of their second son, and the delicate heart surgery he needed.
"You never think it's going to happen to you," said Brynn Kordik, 28. "Our first son was full term, actually eight days late, so never in our wildest dreams did we think we'd have a baby at 27 weeks."
One week after his Oct. 12 birth, Zachary's health was being compromised by a patent ductus arteriosus (PDA), a heart problem experienced by many premature babies that can require surgery. Given the partnership between NCH and Children's Memorial Hospital, Dr. Hyde Russell, a pediatric cardiovascular surgeon on both medical staffs, performed the one-hour procedure Oct. 19. It was the first PDA surgery ever performed at NCH.
"With blood vessels in preemies being only millimeters wide, it takes years of experience to successfully perform PDA surgeries," said Dr. Martin Kelly, an NCH neonatologist. "Temperature regulation is also important because small babies get cold quickly. Zachary was able to have his surgery without leaving his Level III NICU room because Northwest Community provides private rooms for all premature babies."
Zachary weighed just 2 pounds, 10 ounces at birth, but two months later is 5 pounds and growing strong. He no longer needs a ventilator, and is being weaned from oxygen. He is heading home soon.
"The whole experience has been scary, but the doctors and nurses do a phenomenal job of addressing our concerns and making us feel better," said Scott Kordik, 33. "They make a difficult journey a lot easier."
The hospital's NICU is led by medical director Dr. Joel Fisher. The 16-bed unit opened in May 2010 with the nine-story South Pavilion addition. Its private rooms are a rare benefit in newborn intensive care. The quiet environment promotes faster healing and growth, and a more comfortable hospital stay. The private rooms also provide space for a parent to spend the night next to their baby.
"Keeping mom and baby together to enjoy bonding time without the need to transfer the baby to another hospital is so important to the family," said Cindy Hartwig, director of Women's and Children's Services at NCH.
Features of a Level III NICU include 24/7 neonatology, pediatric surgeon, neonatal respiratory therapist, maternal fetal medicine program, neonatal pharmacist, social worker, discharge planner and follow-up clinic.
For more details about maternity services at Northwest Community Hospital, visit www.nchbaby.org.