A twin-engine plane with three adults and three children on board crashed into the Superstition Mountains east of Phoenix on Wednesday, and there was no sign of survivors, authorities said.
Apache Junction Fire Department and the Pinal County Sheriff's Office responded to the wreckage of a twin engine Rockwell Turbo Commander 690A plane that crashed into the Superstition Mountains east of the Valley.

Pinal County Sheriff's Office confirmed a plane with six on board, including three children, crashed in the mountain range and caused a fire.
Reports of the crash and flames came in about 6:40 p.m. The time zone is one hour behind CST (Chicago time).
There are reports of multiple areas of fires burning.
No commercial aircraft had been reported missing immediately after the news of the crash.
The plane reportedly crashed near the top of the mountain at a height of approximately 4,500 feet.
VIDEO: A webcam aimed out a window captured the crash (0:50).
The Superstition Mountains, popularly referred to as "The Superstitions", are a range of mountains in Arizona that are anchored by Superstition Mountain — a large mountain that is a popular recreation destination for residents of the Phoenix, Arizona area. There's absolutely no artificial light in the area, and the terrain has rugged cliffs. The fuselage is reported to be wedged in some crevices in the rugged terrain.
The FAA N-Number is reported to be N690SM (FAA N690SM). The aircraft is reported to be a fixed wing multi-engine (turbo-prop) owned by Ponderosa Aviation of Safford, Arizona.
Ponderosa Aviation provides Type I Air Tactical platforms to the United States Forestry Service (USFS) and Department of the Interior (DOI), and superior aircraft for firefighting surveillance, according to the official website for Ponderosa Aviation (http://ponderosaaviation.net). The fixed wings are attached at the top of the fuselage.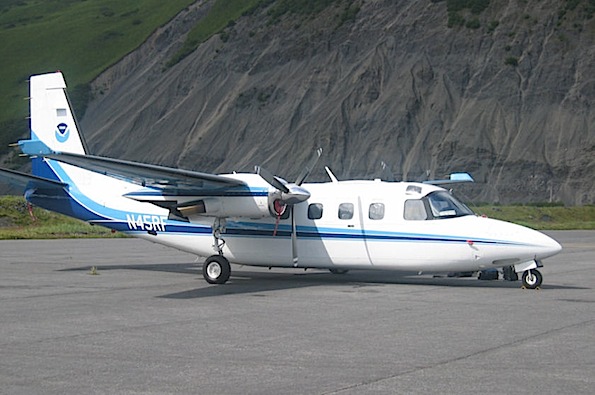 Aircraft form of NOAA's newer AC-695A Jet Prop Commander — similar to form of Rockwell Turbo Commander 690A.
More info on Twin Commander Model 690A Aircraft
http://www.twincommander.com/history.html

View Larger Map
Satellite view of rugged mountains east of Apache Junction, Arizona.

View Larger Map
Map of Apache Junction in Arizona and southwest United States.