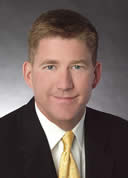 John P. Hanlon
The Menominee-Dunleith Fire Department, Jo Daviess County Sheriff's Office, East Dubuque police, Illinois State Police and Illinois Conservation police responded to a 911 call about 5:30 a.m. Saturday, November 19, 2011 near the intersection of U.S. Highway 20 and Dunn Road in Menominee, Illinois near East Dubuque, Illinois.
John Hanlon, 44, of Inverness, described as an avid outdoorsman died of a single gunshot wound to the chest early Saturday. The same gunshot that killed John Hanlon at the scene, also injured his 15-year-old son, who was treated and released from Finley Hospital in Dubuque, Iowa.

The Illinois Conservation police charged Kelly Jackson, 53, of East Dubuque, with misdemeanor reckless conduct after investigation discovered that he discharged his weapon, a 12-gauge shotgun, one hour ahead of legal shooting hours. Illinois Department of Natural Resources (IDNR) rules specify that shooting cannot begin until 30 minutes before sunrise. Sunrise on Saturday, November 19, 2011 was 6:58 a.m. CST. Law enforcement officers are reporting the gunshot wounds were the result of an accident.

View Larger Map
U.S. 20 & Dunn Rd, Menominee, Jo Daviess County 61025.

View Larger Map
U.S. 20 & Dunn Rd, Menominee, Jo Daviess, Illinois 61025.
Proper licenses, permits and the permission to be on the property site where the accident occurred were obtained by all individuals at the scene. Kelly Jackson and John Hanlon were not hunting together.
John Hanlon worked at Deloitte for more than 16 years and worked as an international tax partner for the last 12 years. Hanlon graduated from the University of Illinois with a BA in Economics and Accounting. He received a master's degree in taxation from DePaul University. He was born in Evergreen Park, Illinois, and graduated from St. Laurence High School in Burbank, Illinois.
Hanlon is survived by his wife, Leslie, and four children.
According to his obituary, he loved hunting, fishing and boating with his family. His greatest pleasure was watching and supporting his children play football, basketball, baseball, soccer and dance.
A memorial visitation is scheduled for 9:30 a.m. Saturday, November 26, 2011 followed by a funeral Mass at 10:30 a.m. Saturday, November 26, at Holy Family Catholic Church, 2515 Palatine Road, Inverness. Interment will be private.
In lieu of flowers, contributions may be made to Max McGraw Wildlife Foundation, P.O. Box 9, Dundee, IL, 60118.
See also …
Ahlgrim Family Funeral Services | Obituaries | John P. Hanlon