William Caviness, 35, a captain for the Greensboro Fire Department in North Carolina collapsed about 500 yards from the finish line of the Bank of America Chicago Marathon Sunday morning. Race medical director Dr. George Chiampas reported that medical personnel were able to get Caviness's heart beating again at the scene near the intersection of Indiana Avenue and Roosevelt Road, but Caviness died 1 hour and 45 minutes later.
Caviness had raised about $2,500 for the International Association of Firefighters Burn Foundation and was part of the IAFF Foundation's Burn Fund Fitness Team, which serves to raise awareness and funds for fire and burn prevention education, advocacy, burn research and to improve the quality of life for burn survivors.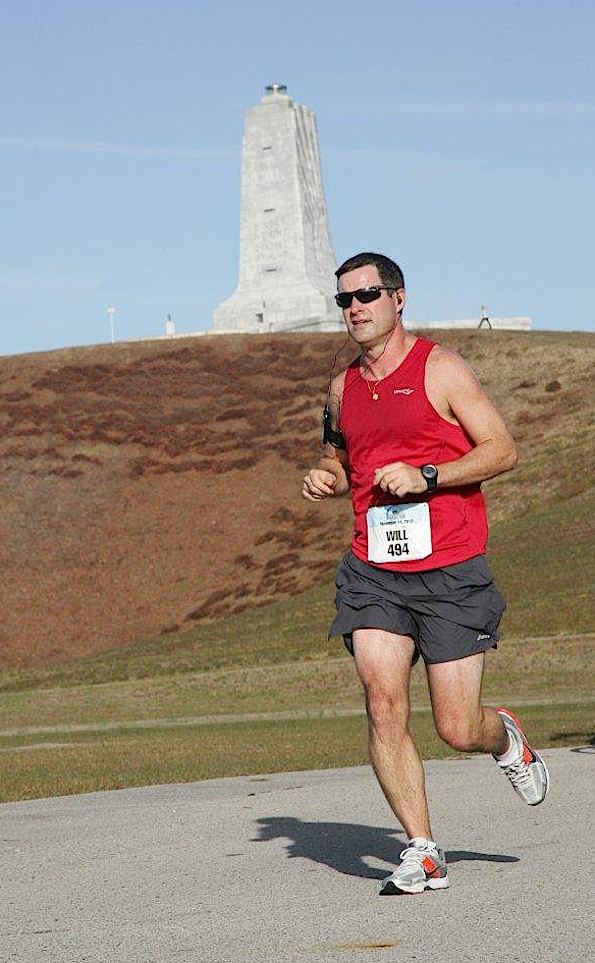 Will Caviness (Photo credit: Facebook: Will Caviness' Chicago Marathon IAFF Burn Foundation).
Capt. William Caviness' bunker coat, boots and other gear sat on a bench outside his fire station where served on Engine 14. He was the father of two young children.
Initial autopsy results are inconclusive. The Cook County medical examiner is also using toxicology tests to help determine the cause of death.
During the 2007 race, Chad Schieber, a 35-year-old Michigan police officer and father of three, died after a collapsing in a race that was stopped because of excessive heat. A helicopter with loudspeakers instructed participants to stop running. During the 2007 marathon, hundreds of participants collapsed or became ill in temperatures in the upper 80's. An autopsy ruled Schieber's death was caused by a mitral valve prolapse with no evidence of dehydration.
This year, about 54 people were taken by ambulance to the hospital — compared to 100 in 2010 and 85 in 2008. Some people were also treated an released during the 2011 marathon. And some runners had extremely low blood sugar levels and lost consciousness. Some regained consciousness, but were unable to speak or remained disoriented. Some victims were observed with existing conditions aggravated by the racing event.
The Bank of America Chicago Marathon started at 7:30 a.m. when the temperature was about 55°F at O'Hare, and possibly a little cooler near the lake. The temperature at 10:51 a.m. Sunday at O'Hare was 73.9°F. For the fourth time in five years the air temperature was above average.
Chicago Fire Department activated an EMS Plan I about 10:55 a.m. Sunday for Marathon runners overheated. The EMS Plan I brought about five extra Advanced Life Support ambulances in addition to the unknown number of Chicago Fire Department and private ambulances from Superior Ambulance already on standby. Staging area for the EMS Plan I was stated to be at 34th and Shields. An Emergency Medical Services staging area was also set up at Madison and Paulina. The EMS Plan I for 'multiple injuries' at 34th and Shield was secured at 1:30 p.m. Sunday.
Runners reported down at following locations …
(list not complete)
Indiana and Roosevelt
2501 South Michigan — several runners down at 25th and Michigan.
28th and Michigan — Mile Marker 24
18th and Peoria — multiple runners down during the course of the run
Runners down on Wentworth, unknown numeric
7501 South Michigan
1308 West Jackson
Taylor and Laughlin
Congress and Wabash
27th and Wentworth
Running Course Mile Marker 13
14th and Michigan
159 East Monroe
Moses Mosop set a Chicago Marathon course record running 1st Place for the Bank of America Chicago Marathon in 2:05:37. On April 18, 2011, Mosop ran 2:03:06 at the Boston Marathon, for second place. Boston Marathon times are not officially recognized, by the International Association of Athletics Federations (IAAF), which rules require marathon records to be established on a loop course (to neutralizing the impact of wind and course elevation changes.)
Liliya Shobukhova became the first runner to win a third straight title for the Chicago Marathon with a time of 02:18:20. She started 2011 with a personal best of 2:20:15 at the London Marathon.
The current top time world record for a marathon is held by Patrick Makau 2:03:38, set at the 2011 Berlin Marathon.