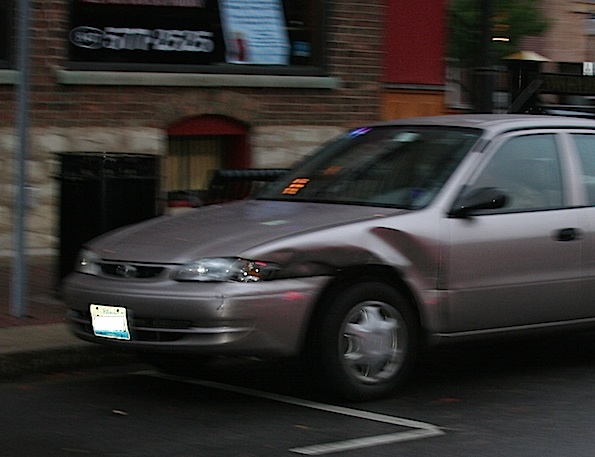 Victim's Toyota Corolla damage after hit-and-run.
Arlington Heights police on patrol about 5:23 p.m. Thursday discovered a crash scene at Northwest Highway and Dunton Avenue. A Lincoln and a Toyota crashed at the intersection, but the driver of a Lincoln left the scene. Police followed the vehicle and got the Lincoln driver to stop at the northwest corner of Campbell Street and Vail Avenue in front of Peggy Kinnane's. A second police unit responded to the intersection of Northwest Highway and Dunton Avenue, but the Toyota was gone.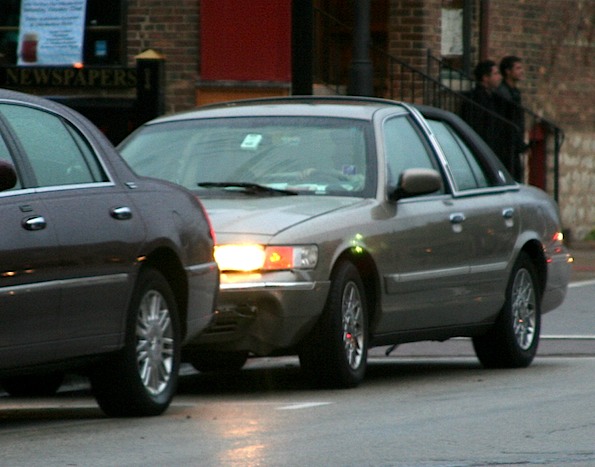 Lincoln sedan that left the scene of the crash and was stopped by police near Peggy Kinnane's.
A few minutes later the driver of the Toyota called police to report the accident. The driver was asked to drive to Campbell Street and Vail Avenue. No word on charges to either driver. The driver that left the scene was released.
One of the vehicles lost its front license plate in the street at the crash scene. Police returned the plate to the registered owner.
About 30 minutes later, a second crash occurred at Northwest Highway and Dunton Avenue.
While police were investigating the second accident, a woman approached police at about 6:42 p.m. Thursday and said her SUV was stolen from a nearby parking lot. The woman, who appeared intoxicated, said she couldn't find her Isuzu Rodeo that she claimed she parked in a train station parking lot. Police searched the downtown area and the Arlington Park Metra Train Station, and found it parked in front of 9 North Vail Avenue at about 7:08 p.m.. The woman was transported home in a taxi.