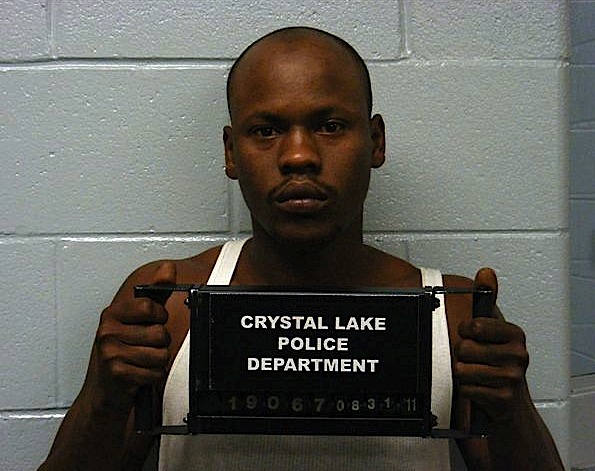 Marcus H. Permenter, captured and charged with forgery in Crystal Lake before three more suspects captured in Arlington Heights were also charged with forgery (see photos below).
Arlington Heights police investigators called out for backup from uniformed police officers as they had one suspect detained and were in foot pursuit with two others about 2:00 p.m. Wednesday at the La Quinta Inn, 1415 West Dundee Road in Arlington Heights. With one suspect in custody, two male suspects, possibly in white T-shirts and blue jeans, were running eastbound from La Quinta. The two were soon in the custody of Arlington Heights police officers.

Police also took custody of a blue Dodge Grand Caravan with Illinois license plates about 2:10 p.m. in the hotel parking lot. A gold van was also investigated — possibly a burglarized vehicle related to the suspects.
Apparently Arlington Heights police investigators arrived at La Quinta to check on a lead picked up earlier Wednesday by Crystal Lake police. One of four members of a criminal gang was found in a silver Cadillac near Route 31 and Route 14 as Crystal Lake police were searching for it. The Cadillac and the subject were believed to be connected to a forgery case at a Crystal Lake bank, and information gathered at the traffic stop led Crystal Lake police to believe the suspects had stayed in the Arlington Heights hotel. Arlington Heights police were contacted for assistance, and the two police departments hoped the other three members at large were still at the hotel. During the investigation, the four members were also suspected of being part of a gang known in law enforcement circles as the "Felony Lane" gang. The gang is so-named because they use the outside lane of bank drive-thru lanes so their own identities and visibility are difficult to determine, while they use victims' identification, or fake accounts based on their victims.

The "Felony Lane" gang is a large group of men and women known for stealing purses from cars parked at gas stations, fitness centers, day care centers, parks, grocery stores and beaches. They often use a baseball bat or some other hard object to break a car window and grab a purse, take out the checkbook, driver's license, credit cards and Social Security cards, and discard the purse. After the thefts, they immediately begin using the identification cards, driver's licenses, credit cards and checks to take the identity of the victim. Sometimes within minutes, they choose a wig that matches the photo on the driver's license and begin using the credit cards before the credit card is reported stolen. Once the credit cards are invalid, the offenders focus on using the checks and identity cards to make purchases and open new fake accounts.
During a search of the Cadillac, and the hotel room in Arlington Heights, officers reportedly found numerous wigs, fake checks and false identification cards. Police later linked the group to similar crimes in Florida, Georgia, Michigan, Minnesota, Ohio, and Tennessee after submitting their names into national crime databases with criminal history information.
Police credit the bank tellers at the JP Morgan Chase Bank, 550 Crystal Point Drive for recognizing a problem when the two men tried to cash a $2,000 check while pulling up in the outside drive thru lane in a silver Cadillac with out-of-state license plates at about 10:00 a.m. Wednesday. While Jason Mulderig, 30, and Marcus H. Permenter, 28, were in the car, Mulderig attempted to cash the forged check. Bank officials determined the account number was fake and tried to stall the two while they called police.
Police arrived at the bank after the Cadillac and suspects left, but spotted the vehicle near Route 31 and Route 41. Mulderig was no longer in the Cadillac, but Marcus H. Permenter, of Pompano Beach, Florida and another male were in the car, and were taken into custody. The other man did not face charges. When Crystal Lake police suspected the group were temporarily based at the La Quinta Inn, Arlington Heights police were contacted, and investigators headed over to the hotel. They discovered a female, Shannon F. McGonigle, 29, and Jason Mulderig, both of Sunrise, Florida; and Jameel M. Little, 34, of Ft. Lauderdale, Florida. Shannon F. McGonigle was immediately placed in custody, but Jameel M. Little and Jason Mulderig took of running eastbound. The two were captured in short time by additional investigators and uniformed police officers that converged at the scene.
McGonigle and Mulderig allegedly told police they were part of a theft and fraud crew involved in using stolen checks, identity cards and driver's licenses, and said they drove the silver Cadillac to the bank, following the instructions of Permenter, who handed them the fraudulent check and identification told them to cash the check.
Jameel Little refused to speak to police. The four suspects were charged with one count of forgery, a Class 3 felony and held in McHenry County Jail. Permenter and Little are held on $30,000 bonds, and McGonigle and Mulderig are held on $25,000 bond.
Police from Lake County, Kendall County and official from the United States Secret Service area also involved in the investigation.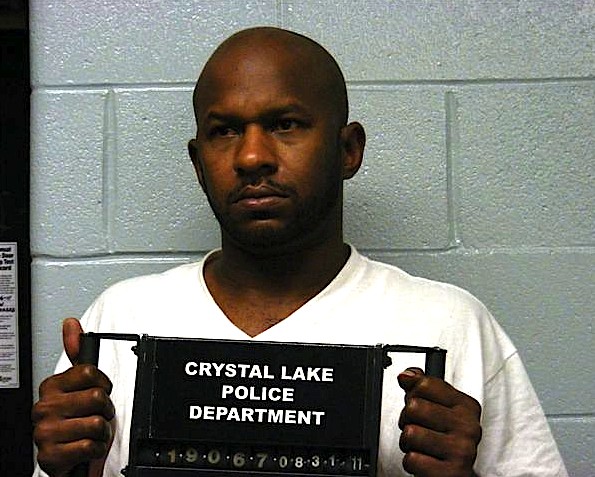 Jameel M. Little captured in Arlington Heights.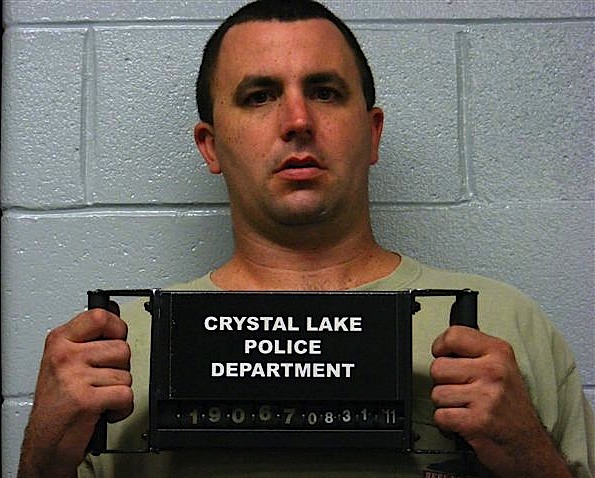 Jason Mulderig captured in Arlington Heights.