Scenes from the aftermath of a Derecho thunderstorm that hit Arlington Heights with sustained 60 mph plus winds, and damaged mostly west and north neighborhoods of Arlington Heights.
A record 868,000 ComEd home and business customers were without power after a high winds associated with severe thunderstorms crossed Chicagoland Monday morning. North of the City of Chicago 196,000 customers were without power, west of the city about 72,000 customers were without power, south of the city about 29,000 customers were without power. In the City of Chicago and Maywood, 53,000 people were without power.

About 8:00 a.m. Monday's storm hit hard, especially the northern region of Chicagoland, First, a Severe Thunderstorm Watch was issued at 5:35 a.m. by the National Weather Service. Storms were just passing the Mississippi River at the time. Next, Severe Thunderstorm Warning was issued at 7:03 a.m. by the National Weather Service. Radar indicated storms in the Rockford area bearing down on Chicagoland at a speed of about 70 mph. Not a lot of lightning and thunder was accompanying the storm, but winds were high. The max wind gust speed data at O'Hare International Airport was reported at 63 mph from the west-northwest at 8:02 a.m. and 8:04 a.m. and a speed of 59.8 mph at 8:12 a.m. Apparently those "gusts" may have actually been sustained from 8:02 a.m. to 8:12 a.m.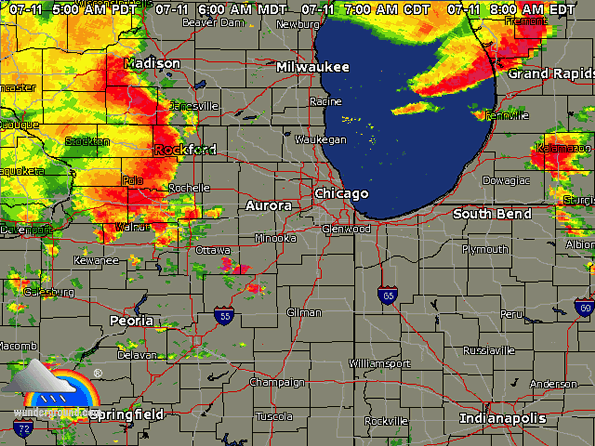 Radar image approaching about the time of the Severe Thunderstorm Warning alert showing bowing near Rockford — a sign of high winds [LIVE RADAR IMAGE].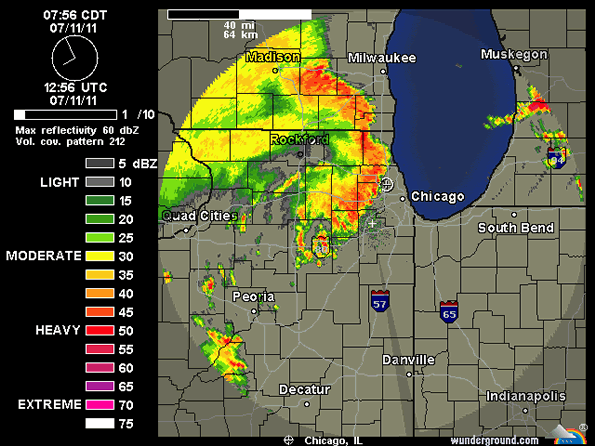 Radar image as the storm hit Arlington Heights, Buffalo Grove, Palatine, Rolling Meadows, Wheeling at 7:55 a.m. Monday [LIVE RADAR IMAGE].
Beach Park, Illinois was hit especially hard again Monday, after experiencing heavy storm damage on Thursday, June 30, 2011. The Beach Park Fire Department called for an extra alarm box for multiple incidents of storm damage. The only east-west road open Monday afternoon was Wadsworth Road.
Mount Prospect experienced additional damage after being hit much harder on Tuesday, June 21, 2011 when an EF-1 tornado created a damage path from Golf Road to Kensington Road at about 8:50 p.m.
The July 11, 2011 squall line, which did not produce any tornadoes in the Chicago area, developed in western Nebraska Sunday afternoon and lasted all the way to Washington D.C. Monday evening. The storm was a prolonged, fast-moving storm known as a 'derecho' — causing damage in 17 states. Derechoes are defined by sustained winds of 58 miles per hour or greater during the storm with a high forward speed of the storm system that includes the distinctive bow echo on radar.