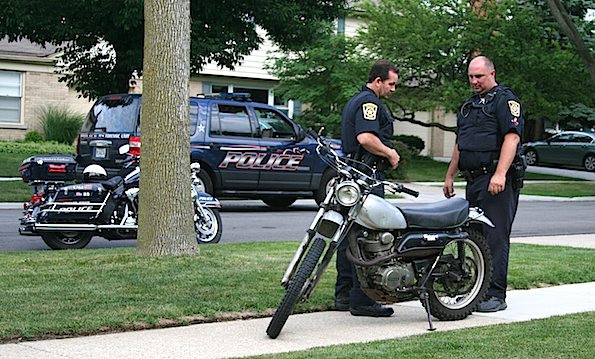 Police investigating a 1972 motorcycle that was ditched in the 700 block of South Walnut Avenue by a subject who fled on foot and was captured in a backyard in the 700 block of South Ridge Avenue.
An Arlington Heights police traffic unit reported a motorcyclist running from the police near Kirchhoff and Walnut about 6:50 p.m. Tuesday. The subject pulled off into a side street and was not being pursued, but then the traffic officer sighted the motorcyclist again near the 800 block of South Walnut Avenue. This time the motorcyclist pulled up on the sidewalk in front of a house in the 700 block of South Walnut Avenue, ditched the bike, which had no license plate, and took off running west and then possibly south into the backyards.

A north beat car with a K-9 unit came down south to help with the search. The subject was described as a male/white with blond hair and black shorts. The subject removed a white T-shirt as he was fleeing. The K-9 unit immediately picked up a scent and he and his partner found the subject within five minutes of their arrival. The subject was hiding in mud and bushes in a backyard of a house in the 700 block of South Ridge Avenue.
The male subject was immediately transported to Arlington Heights Police Department Headquarters for investigation. No word on whether the subject was wanted, or if he merely ditched the bike because he was driving a motorcycle that wasn't registered. The motorcycle is a silver 1972 Honda, with no registration and no tail lights. Police were checking the VIN and investigating the motorcycle.