A rare progression of thunderstorm cells that developed over Lake Michigan elicited a National Weather Service Severe Thunderstorm Warning for Cook County Thursday after 8 pm. Thunderstorms cells, some with golf ball size hail and high winds hit suburbs from Beach Park to Skokie and Evanston along the Lake Michigan shoreline.
The storm cells traveled southbound across Lake Michigan as they grew westward and threatened north suburbs and the City of Chicago.
Fire departments in several communities were responding Thursday night to downed power lines and downed trees and branches. In Beach Park a box alarm was requested for multiple incidents and a structural collapse caused by a downed tree in the 10100 block of Chaplin Avenue.
A building collapse was also reported near Kedzie and Monroe but it is not confirmed if the collapse was related to severe weather.
At the Lions Fest at Melas Park in Mount Prospect, first the fireworks were canceled, then the band, and then the rides were shut down. Although the storms passed to the east, high winds and the proximity of lightning was a concern to public safety officials.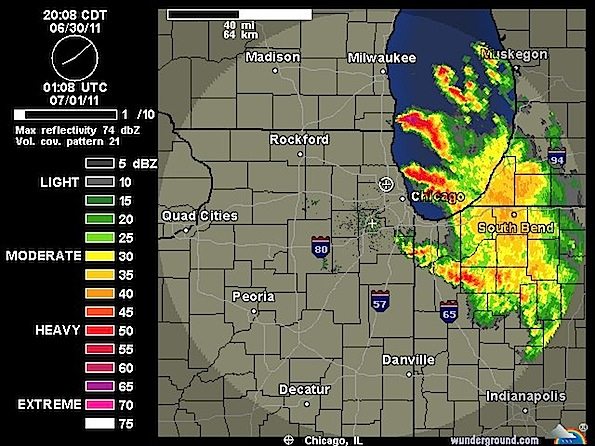 Radar showing storms over Lake Michigan, but affecting north shore suburbs.
Usually storms arrive from the south-southwest, southwest, west, northwest, or north-northwest.
See aftermath info …
ChicagoMediaScanner.com Severe Thunderstorm Warning as high winds, hail, damaged buildings & vehicles from north suburbs to Chicago to south suburbs