Video during accident investigation of crash scene near the intersection of Camp McDonald and Maple Avenue in Prospect Heights.
According to the Cook County Medical Examiner's office, Freddy Najera, 16, of the 1100 block of North Boxwood Drive, Mount Prospect has been identified as one of the victims that was killed in a car vs. tree crash that killed two other teen victims. As of early Sunday morning, the identities of the two other teens have not been released.
Autopsies are scheduled today for the three victims, following an extensive Accident Investigation from just after the accident about 3:10 a.m. until after 10:00 a.m. Saturday. The identities of a two females that died in the crash have not been released, as of Sunday morning. Two victims were ejected from a stolen silver 2002 Honda Accord, that was reported stolen from an address about 1.5 miles south of the Prospect Heights crash scene in Mount Prospect.

At about 3:12 a.m. Saturday, a Prospect Heights Fire Protection District rescue ambulance and a Wheeling Fire Department rescue ambulance were immediately dispatched. Prospect Heights police arrived first and reported a scene "far worse" than entrapment — the term used when rescue tools are used to extricate victims that are trapped in a wrecked vehicle. Mount Prospect police immediately assisted Prospect Heights police with accident scene management.
Rescue personnel immediately realized there were fatalities, but faced a scattered crash scene in darkness with the uncertainty of how many victims were involved in the crash. Apparently no extrication operations were required. The Wheeling rescue-ambulance paramedics were released a little after 3:30 a.m., and the Prospect Heights fire engine was available on the scene at about the same time. Prospect Heights firefighter/paramedics transported one male victim to Level I Trauma Center Advocate Lutheran General Hospital. The bodies of the three other victims were covered with a white sheet and remained at the scene until about 10:20 a.m. Saturday during Accident Investigation and Crash Reconstruction. Firefighter/paramedics used blue tarps to block the views of bystanders during the removal of the bodies from the scene.
Mount Prospect police received a report about 8:20 a.m. Saturday that a 2002 silver Honda was reported stolen sometime overnight from a residential area near Kensington Road and Wheeling Road. No offender information was available during the report. A Mount Prospect police officer immediately compared the license plate information with a silver Honda involved in a fatal crash on Camp McDonald near Maple just after 3:00 a.m. Saturday, and identified the vehicle description as the same vehicle.
Mount Prospect police are investigating.

The 2002 Honda was apparently eastbound on Camp McDonald Road when it was driven off of the roadway and struck a tree at high speed, causing the Honda to split in half. The crash killed two females and one male. A second male was transported to Level I Trauma Center Advocate Lutheran General Hospital.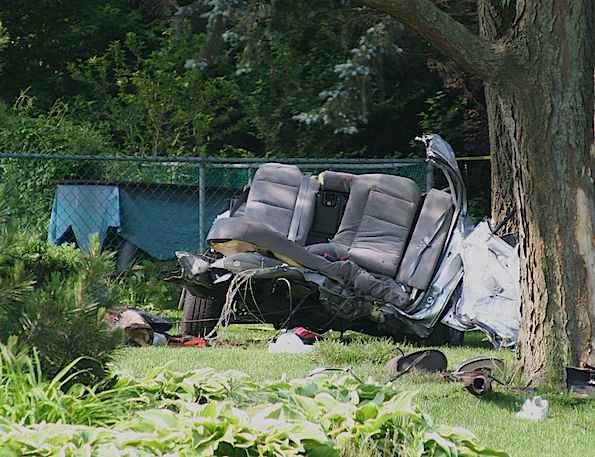 Rear half of Honda that was split in half in fatal crash on Camp McDonald Road, just east of Elmhurst Road.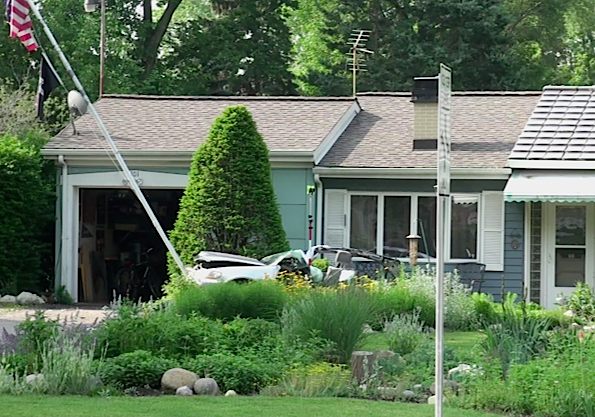 Front half of Honda rests near flag pole flying United States of America flag and POW-MIA flag.
Prospect Heights police and firefighter/paramedics responded just after 3:00 a.m. Saturday to a one-car crash with a tree. The car was split in half with at least two bodies ejected from the vehicle. Three people were already dead at the scene when police and firefighter/paramedics arrived at the crash scene on the south side of Camp McDonald Road, about 200 yards east of Elmhurst Road. The ages of the victims were reported to be between 14 and 19.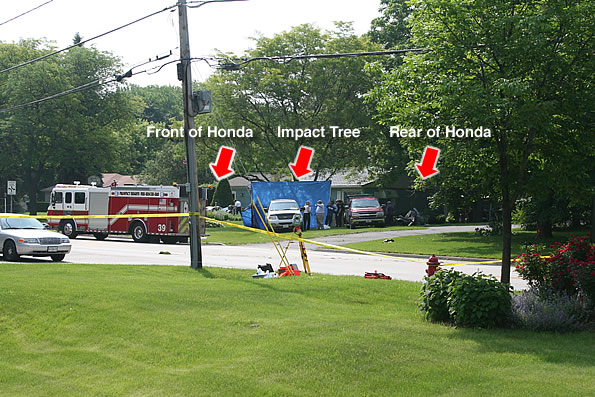 Fatal crash scene showing tree and location of the front and rear half of wrecked Honda.