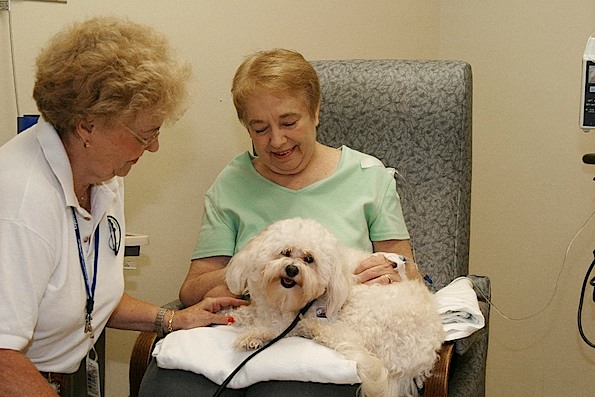 Barbara Scharringhausen (left) and her Havanese, Tootsie Pop, visit a patient in the Ambulatory Infusion Clinic at Northwest Community Hospital.
Animal-Assisted Therapy at Northwest Community Hospital has been met with great success since its launch in 2007. Now the Arlington Heights hospital is recruiting additional dogs and volunteer owners to expand the program.

Animal-Assisted Therapy is a proven method of improving a patient's physical health by providing a higher level of emotional comfort while serving as a diversion from their illness. The NCH program has grown to 60 dog and handler teams that make hospital-wide visits.
A loving dog can assist in reducing a patient's stress, pain, anxiety and loneliness. Interaction between patients and pets can raise a person's spirits and improve their physical well-being by lowering blood pressure and accelerating recovery times.
"The animals provide a dimension of care that is unlike any other therapy," said Diane Colville, manager of Animal Assisted Therapy at NCH. "Patients simply love the dogs. Our teams have made more than 35,000 patient visits in nearly four years."
The pets certainly are warmly received. One parent in Pediatrics said her daughter smiled for the first time in days when seeing the dogs. A patient in the Ambulatory Infusion Clinic reported that pet therapy lifted her spirits and made her day. A patient on the Medical Pulmonary floor appreciated that the dogs made her feel calm.
A team consists of a dog and its handler, who must be the owner of the pet and at least 18 years old. Therapy dogs can be any breed, but must be in good health, obedient, enjoy people and get along with other dogs.
Volunteers need to complete an application. Qualifying dogs will go through a two-hour temperament and obedience evaluation by professional dog trainers on Saturday, Aug. 6. Teams that pass will attend a 2½-day training course at the hospital that includes mock and trainer-supervised patient visits, and a briefing on hospital policies and infection control practices. The training – held October 7 (evening only), 8 and 9 – will prepare teams for hospital visits. There are modest fees to help offset the costs of the temperament evaluation and training.
For more details on NCH's Animal-Assisted Therapy program and to download an application, visit the hospital's website at www.nch.org/animalassist. Sponsorships are available to support the dog and handler teams.