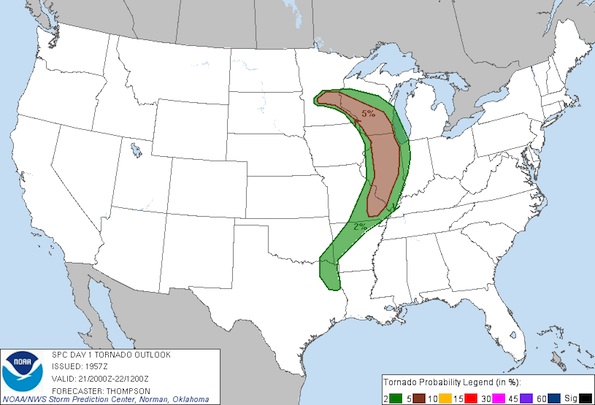 DAY 1 TORNADO OUTLOOK for June 21, 2011 valid 3 PM CDT to 7 PM.
Most of northern Illinois and all of Chicagoland was placed in a 5% tornado risk area at 3PM Tuesday, June 21, 2011. No tornado watch has been issued as of 3:30 p.m., but conditions exist which could support "a couple of tornadoes" in addition to damaging winds and large hail.
Arlington Heights had a brief shower before 3 p.m., but at 3:45 p.m. no thunderstorms in our area were indicated by radar.
A "fairly potent" jet stream exists but the local forecast discussion reports the TORNADO POTENTIAL IS NOT PARTICULARLY HIGH.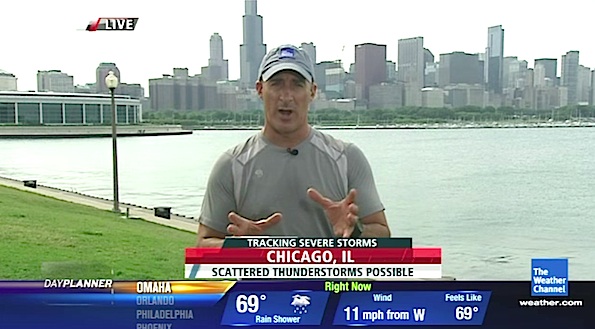 Jim Cantore live weather updates near the Shedd Aquarium in Chicago.
The Weather Channel TOR:CON index developed by Dr. Greg Forbes gives Chicagoland and Illinois a 6 in 10 chance of a tornado in a 50-mile radius. According to the Weather Channel TOR:CON Index (Tornado Condition Index), Illinois has the highest risk, including all states considered from Texas to Michigan and in between. Weather Channel meteorologist Jim Cantore is positioned near the Shedd Aquarium for live broadcasts from Chicago. He doesn't believe today is the type of day that would be likely to bring tornadoes because the winds at all levels of the atmosphere over Chicagoland are traveling in the same direction — not a likely scenario to bring rotation. The subtitle live for TOR:CON for Chicagoland was showing a '4' at 6:30 p.m See also TOR:CON Explained.
TECHNICAL …
AREA FORECAST DISCUSSION
NATIONAL WEATHER SERVICE CHICAGO/ROMEOVILLE IL
306 PM CDT TUE JUN 21 2011
.MESOSCALE DISCUSSION…
145 PM CDT…
WE CONTINUE TO MONITOR A CLUSTER OF WHAT IS LIKELY ELEVATED
CONVECTION OVER NORTH CENTRAL ILLINOIS. THE 1800 UTC RAOBS OUT OF
KDVN/KILX MODIFIED FOR OBSERVED CONDITIONS OUT AHEAD OF THIS
CONVECTION SUGGESTS THAT INHIBITION FOR BOUNDARY LAYER BASED PARCELS
IS QUITE WEAK…MEANING THAT IT WOULDNT TAKE MUCH FOR ONE OF THESE
ELEVATED STORMS TO TAP INTO THE STRONGER SFC BASED INSTABILITY AND
QUICKLY INTENSIFY/BECOME SEVERE.
OTHERWISE…WOULD ANTICIPATE ADDITIONAL STORMS TO DEVELOP UPSTREAM
OVER WESTERN IL/EASTERN MO THIS AFTERNOON TO POSE A THREAT TO THE
AREA LATER THIS AFTERNOON INTO THE EVENING. AIRMASS UPSTREAM REMAINS
QUITE UNSTABLE AND SEE NO REASON THAT THERE WONT BE QUICK RECOVERY
OVER NORTHERN ILLINOIS IN THE WAKE OF THIS ELEVATED CONVECTION THAT
IS CURRENTLY MOVING THROUGH.
DEEP LAYER SHEAR REMAINS RATHER STRONG NOW…HOWEVER MODELS INSIST
ON SLOWLY WEAKENING SHEAR THROUGH THE AFTERNOON. WHILE SHEAR IS
PROGGED TO WEAKEN SOMEWHAT THIS AFTERNOON…IT SHOULD REMAIN
SUFFICIENT FOR ORGANIZED/SEVERE THUNDERSTORMS INTO THE EARLY EVENING
HOURS.
IZZI
1204 PM CDT…
TRICKY FORECAST REGARDING SEVERE POTENTIAL THIS AFTERNOON AND
EVENING.
STILL SEEING SOME EVIDENCE OF THE DECAYING OVERNIGHT MCS AND ITS
LINGERING COLD POOL LATE THIS MORNING OVER CENTRAL ILLINOIS. RAPID
DEMISE OF REMNANT CLOUD COVER FROM THIS MCS AND CONTINUED SOUTHERLY FLOW SHOULD EVENTUALLY RESULT IN MIXING OUT OF THE REMNANT COLD POOL. SPC RUC BASED MESOANALYSIS INDICATES THAT OVERNIGHT MCS DID OVERTURN MID LEVEL LAPSE RATES…HOWEVER UPSTREAM OBSERVATIONS INDICATE THAT ANOTHER PLUME OF STEEP MID LEVEL LAPSE RATES ARE ALREADY BEGINNING TO ADVECT NORTHEAST INTO THE MID-MISSISSIPPI VALLEY.
GIVEN THE GRADUALLY DECREASING MID-HIGH LEVEL CLOUD COVER POTENTIAL
EXISTS FOR SUBSTANTIAL HEATING/DESTABILIZATION THIS AFTERNOON. HAVE
SEEN A COUPLE OF ELEVATED SHOWERS AND STORMS DEVELOP IN THE VICINITY
OF REMNANT MCV OVER CENTRAL INTO NORTHWEST ILLINOIS. FAIRLY
IDENTIFIABLE SHORT WAVE EVIDENT ON WATER VAPOR IMAGERY OVER MISSOURI
WILL LIKELY RESULT IN INCREASING LARGE SCALE ASCENT TO THE EAST OF
THE UPPER LOW. WEAK SURFACE FEATURES MAKE IT DIFFICULT TO FIND
DISTINCT FOCUS FOR SFC BASED CONVECTIVE DEVELOPMENT AND DOES LEAD TO
SOME UNCERTAINTY IN ANTICIPATING THE EXACT EVOLUTION OF CONVECTION
THIS AFTERNOON.
FORECAST SOUNDINGS AND MODIFICATION OF MORNING RAOBS SUGGEST THAT
THE POTENTIAL EXISTS FOR MLCAPE VALUES OF 2000+ J/KG THIS AFTERNOON.
GIVEN THE APPROACHING SHORTWAVE AND INCREASE IN LARGE SCALE
ASCENT/WEAKENING CONVECTIVE INHIBITION SUSPECT THAT THERE WILL BE AN
INCREASING COVERAGE OF THUNDERSTORMS THIS AFTERNOON…WITH A GRADUAL RAMP UP IN INTENSITY AND SUBSEQUENT SEVERE THREAT. FAIRLY POTENT 500MB JET IS STILL IN THE AREA WITH REGIONAL VWPS SHOWING 50-60KT WINDS RESULTING IN 0-6KM BULK SHEAR VALUES OF 35-40KT…WHICH IS
SUFFICIENT FOR ORGANIZED SEVERE THUNDERSTORMS POSING A THREAT OF
LARGE HAIL AND DAMAGING WINDS. WHILE TORNADO POTENTIAL IS
NOT PARTICULARLY HIGH…THE BACKED LOW LEVEL FLOW AND LOWER LCLS
OVER NORTHERN ILLINOIS WHERE ATMOSPHERE WAS LESS DISRUPTED BY
OVERNIGHT MCS COULD RESULT IN A SLIGHTLY ENHANCED TORNADO
POTENTIAL THIS AFTERNOON. WITH TIME THIS AFTERNOON MID LEVEL FLOW
SHOULD BE WEAKENING SOMEWHAT AND LOW LEVEL WINDS VEER WHICH SHOULD
RESULT IN DECREASING LOW AND DEEP LAYER SHEAR AND A DECREASING
TORNADO THREAT.
IZZI
See also …
twitter.com/jimcantore
The Weather Channel TOR:CON Explained
Become a fan of The Cardinal weather page. Submit your pictures or just stay up-to-date on weather topics — go direct to the Arlington Cardinal Weather photos. For a list of all of The Cardinal Facebook fan pages, go to Arlingtoncardinal.com/about/facebook …