SEE FRONTIER DAYS INFO FOR 2012 [CLICK HERE] …
The Arlington Heights 4th of July Parade, Monday July 4, 2011 at 10:00 a.m. [MAP/SAT], Arlington Heights Frontier Days, June 30-July 4, 2011 [MAP/SAT] and Arlington Park Racetrack Fireworks, Saturday July 2, 2011 at dusk [MAP/SAT] offer plenty of fun for Arlington Heights …


FIREWORKS 2011 near 60004, 60005, 60056: Thursday, June 30 @ Melas Park; Saturday July 2 @ Arlington Park, and Monday, July 4 again @ Melas Park. (See also ArlingtonPark.com & mplionsfest.com)
SATURDAY Special July 2 Racing/Chicagoland's Largest Fireworks Display
Join Arlington Park for a fun filled July 2nd featuring racing, music and and fireworks. Live racing will begin later in the day than normal (4:00 p.m.) followed shortly thereafter by the Chicagoland's major fireworks display for an Independence Day Fireworks Celebration. Celebrate July 2nd Fireworks and Horse racing at Arlington. General Admission is $10 at the gate, but you can also purchase tickets online ahead of time and save money. Special seating is also available. See Arlingtonpark.com for latest details for the whole weekend.
Gates Open at 11:15 and Post Time is 4:00 p.m.
Due to previous years' overwhelming response to the Racing, Music and Fireworks event, Arlington Park highly recommends you arrive at Arlington Park no later than 6:00 PM.
Parking lots and gates will close at 6:45 PM, please have your ticket in hand upon arrival to display to parking control.
For more information, check the racetrack online or call: Arlington Park Box Office: 847-385-7500
Many neighbors of the racetrack gather (FREE OF CHARGE) at the Rolling Meadows Cook County Circuit Courthouse property or along parkways of Euclid Avenue and Wilke Road, just south and east of the racetrack.
CHICAGO FIREWORKS WEATHER FORECAST …
Arlingtoncards.com/weather >>> Fireworks Forecast | Fireworks Radar
Missing the fireworks at Arlington Park? Mount Prospect has fireworks at Melas Park [MAP/SAT] from 9:30 pm to 10:00 pm. on Thursday June 30 AND Monday July 4, 2011.
FRONTIER DAYS at Recreation Park June 30-July 4, 2011 [MAP/SAT]
Parking is not available at Arlington Market. Most people park in the neighborhood streets north of Recreation Park and in the Parking Garages in downtown Arlington Heights. Shuttle buses run from the parking garages to Frontier Days at Recreation Park. Check the full Arlington Heights Frontier Days Schedule at frontierdays.org …
MUSIC ACTS: WHO'S PLAYING AT FRONTIER DAYS IN ARLINGTON HEIGHTS
Many more events some days and all evenings … see Frontier Days official site.
THURSDAY JUNE 30 at 8 PM at Frontier Days Carnival/Festival at Recreation Park …
MAIN STAGE … LEE GREENWOOD … With his distinctive voice, insightful songwriting and unparalleled showmanship, Greenwood has been captivating audiences for decades. His hit song "God Bless the USA" has been voted the most recognizable patriotic song in America.
FRIDAY JULY 1 at 8 PM at Frontier Days Carnival/Festival at Recreation Park
MAIN STAGE … GIN BLOSSOMS
Instantly appealing alternative pop rock band whose hits include "Hey Jealousy","Found Out About You", "Follow You Down", "Til I Hear It From You" and many others.
SATURDAY JULY 2 at 8 PM at Frontier Days Carnival/Festival at Recreation Park
MAIN STAGE … KANSAS
One of the leading progressive rock bands in classic rock history, KANSAS delivers favorites such as "Dust In The Wind", "Carry On Wayward Son" and "Point of Know Return" to name a few
SUNDAY JULY 3 at 8:00 PM at Frontier Days Carnival/Festival at Recreation Park
MAIN STAGE … LONESTAR
Multiplatinum country music act whose number one hits include "Amazed" and "I'm Already There". Known for both strong country roots as well as a multi-genre crossover appeal has led to a history of success on the pop/rock as well as country charts
MONDAY JULY 4 at 7:30 PM at Frontier Days Carnival/Festival at Recreation Park
MAIN STAGE … AMERICAN ENGLISH … These remarkable musicians perform the beginning to the end of the Beatles Career.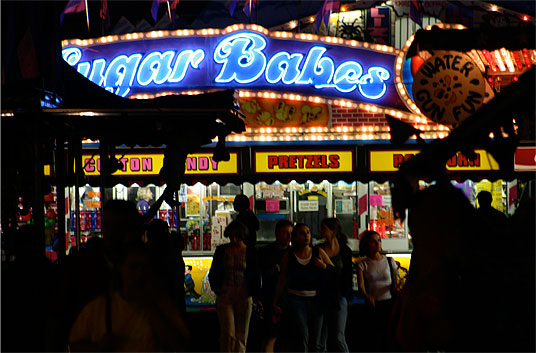 Frontier Days includes much, much more. A running race, flea market, a carnival, food, fire department water fights and more entertainment. See the Arlington Heights Frontier Days Official Site for more details.
FRONTIER STAGE (ASIDE FROM MAIN STAGE BEFORE OR AFTER MAIN STAGE EVENT)
Thu June 30, 2011 +++ 9:30-10:45pm
C-FACTOR … Ultimate high energy female fronted party rock band. Playing classics to current hits that will keep you dancing.
Fri July 1, 2011 +++ 9:15 – 11:45 pm
AFRODISIACS… Electrifying show propels you to the disco groove with the style, costumes, and dances of the '70's.
Saturday July 2, 2011 +++ 9:15-11:45pm
ARRA… Chicago's #1 classic rock cover band … this group brings energy to their to their show you won't see anywhere else, with songs from Rush, Boston, Journey, Bon Jovi.
Sunday July 3, 2011 +++ 9:15-11:45pm
ROCK CANDY… Sweetness for your ears! Playing a mix of Dance, Hip Hop, Pop Rock and 80's — definitely something for everyone.
Monday July 4, 2011 +++ 5:45-7:15 pm
ROD TUFFCURLS AND THE BENCH PRESS … Great party band that will make you want to enjoy a beverage, air-guitar, air-drum, high five someone, or just say awesome.
FESTIVAL CLOSES AT 10:00 PM after the American English performance.
See also …
Arlington Heights Frontier Days Official Site
Arlington Park Racetrack
Village of Arlington Heights Official Site
Arlingtoncards.com/calendar
The official name for this event is Frontier Days Festival.
Frontier Days is sometimes incorrectly referred to as Arlington Heights "Pioneer Days"
The Arlington Heights Frontier Days Festival 2011 is the 36th annual celebration.