Firefighters inspect a burnt out auto after it crashed into a tree, as police prepare for a lengthy investigation.
Police and firefighter/paramedics responded to a car vs. tree crash with the car fully involved with fire about 2:20 a.m. Sunday. The driver crawled from the car as the car ignited and before it became fully-involve with fire. Bystanders encouraged the driver to crawl further from the car when they feared the car would explode. The male driver crawled about 30 yards north of the car.
Arlington Heights police, Buffalo Grove police and Long Grove Fire Protection District firefighter/paramedics arrived first to find a victim lying in the parkway about 30 yards north of the car. Witnesses said he appeared to have a head injury.

Long Grove Fire Protection District firefighter/paramedics transported the victim to Level I Trauma Center Advocate Lutheran General Hospital. Long Grove firefighters also extinguished the car fire within minutes. Buffalo Grove firefighter/paramedics also responded. After investigation, the fire jurisdiction was determined to be Arlington Heights.
The fire was so intense that firefighters could not determine whether there were any additional victims in the car until the fire was extinguished. Firefighters also repeatedly asked the victim if he was alone in the car.
Accident investigators were on the scene several hours.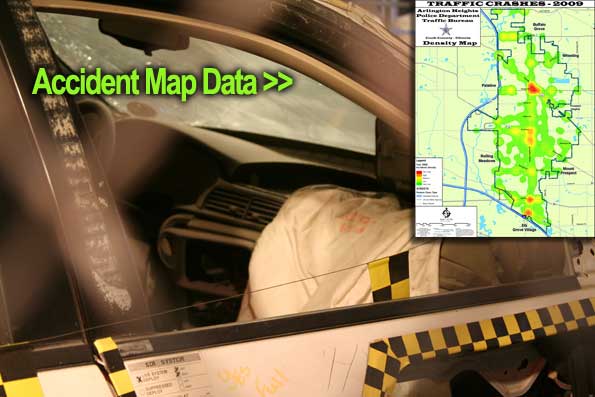 Click the graphic to access the accident map data for the Village of Arlington Heights.