At least 9 people are dead in Oklahoma, Kansas and Arkansas after violent weather tore through the Midwest.
NOAA's National Weather Service Storm Prediction Center presented an unusually high risk of tornadoes in its 1 Day Convective Outlook. A 45% probability of tornadoes existed today for all of eastern Oklahoma, parts of southern Kansas, and a small part of northern Texas. The high risk convective outlook was valid from 3:40 p.m. May 24, 2011 to 7:00 p.m. May 24, 2011.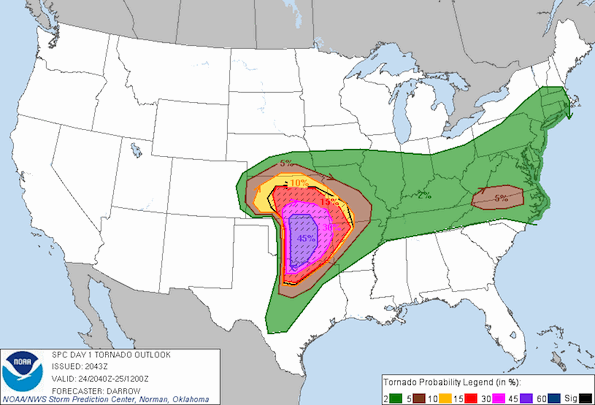 Storm Prediction Center 1 Day Convective Outlook.
At Least 7 Killed In Canadian, Cleveland Counties
Storms in Oklahoma began at about 3:00 p.m. Tuesday. Early reports by storm trackers indicate tornadoes hit Chickasha, El Reno, Fairview, Guthrie, Hinton, Moore, Newcastle, Norman, Piedmont and Stillwater.

Confirmed sightings of at least five tornadoes in the Oklahoma City area have been reported. Two have been reported killed in Oklahoma near El Rino as of 6:30 p.m. CDT today.
RAW VIDEO from KWTV/KOTV helicopter over El Reno, Texas.
Three children with severe injuries in Piedmont.
Eighteen wheelers reported cut in half.
In Washington, Oklahoma just south of Norman, Oklahoma a tornado has been reported to be on the ground for 50 miles.
TORNADO REPORTS FROM THE NATIONAL WEATHER SERVICE
CALLER REPORTED SEEING A SMALL TORNADO NORTH OF HER, WITH DEBRIS CLEARLY ROTATING IN HUGOTON, KS.
BRIEF TORNADO IN WHEAT FIELD IN KALVESTA, KANSAS.
TWO FATALITIES OCCURRED WHEN A TORNADO BLEW A TREE ONTO A VAN TRAVELING ALONG HIGHWAY 281 IN SEWARD, KANSAS.
LAW ENFORCEMENT REPORTS AN UNDETERMINED NUMBER OF HOUSES DESTROYED AND ONE INJURY IN GREAT BEND, KANSAS.
HOUSES DAMAGED IN ELLINWOOD, KANSAS.
MODERATE TO SEVERE TORNADO DAMAGE NORTH OF ST. JOHN ON US 281 NEAR SEWARD, KANSAS.
REPORT OF TORNADO FROM STORM CHASERS IN SHAFFER, KANSAS.
TORNADO REPORTED — POSSIBLE VERY LARGE AND RAIN WRAPPED. LOCATION ESTIMATED IN BISON, KANSAS.
BRIEF ROPE TORNADO REPORTED TO EMERGENCY MANAGEMENT VIA TRAINED SPOTTER WILSON, KANSAS.
TEXAS
BRIEF TORNADO WEST OF MUENSTER ON 82, ST. JO MONTAGUE COUNTY, TEXAS.
SEVERAL HOMES DAMAGED NEAR HWY 199 IN SPRINGTOWN, TEXAS.
TORNADO AT I-35W AND FM 407 IN CORRAL CITY, TEXAS.
TORNADO REPORTED AT OLD ALTON AND TEASLEY (GUYER HS) IN CORINTH TEXAS.
TORNADO REPORTED NEAR I-20 AND TRINITY RIVER IN BALCH SPRINGS, TEXAS.
SPOTTER REPORTS BRIEF TORNADO BETWEEN KUAFMAN AND CEDARVALE, TEXAS.
OKLAHOMA
POWER FLASHES REPORTED EAST OF WAGONER. TORNADO REPORTED OBSERVED IN WAGONER, OKLAHOMA.
VIRGINIA
POSSIBLE TORNADO IN THE BOLTON AREA IN CASTLEWOOD, VIRGINIA.
CDOT REPORTED TORNADO MOVING NORTHEAST IN LAMAR, COLORADO