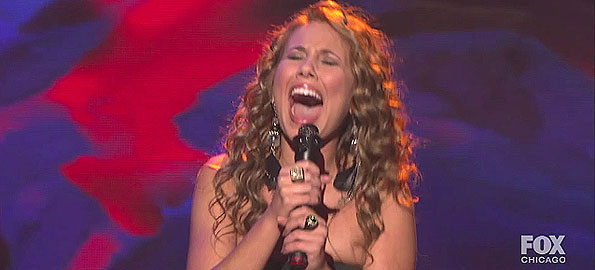 Haley Reinhart in top form back in March before voting for American Idol Season 10 (2011) semifinals.
Not in their wildest dreams would Haley Reinhart fans expect her to get a standing ovation from Randy Jackson. But that's what happened Wednesday night.

Haley chose Led Zeppelin's "What Is and What Should Never Be" with her father playing guitar on stage. She took a fall up some steps after circling the judges while performing, and responded with a confident slight heckle while singing — like it was fun and part of the job that she fell while performing.
At the end of the song Steven Tyler asked, "Haley, did you fall for me?"
"This is what it's all about … I love the fact that now in this moment when you need to be great and every performance needs to be a moment, this girl is slaying it. Your fearless, you chose a song that's not for the weak at heart … this is Zeppelin dude, this is like crazy vocals … got your father on stage … this was one of your best performances ever."

— Randy Jackson
"You know, it's not about how many times you fall, its about how many times you get back up. That was superb. That was just so, so good."
— Steven Tyler
[on the fall] … happens you gotta keep going. You keep going … that's the sign of a professional … that's the sign of a professional who knows what they're doing up there. These people deserved more than that, and you gave it to them. It was a really tough song. You sang it really, really great. It was a good, good, good round for."

— Jennifer Lopez
American Idol 2011 Haley Reinhart performing Led Zeppelin's What Is And What Should Never Be
What Channel broadcasts American Idol?
In Arlington Heights on Comcast …
WFLD FOX is Channel 12 for standard definition
WFLD FOX Channel 190 HD for High Definition WFLDDT (FOX)
In Arlington Heights on WOW! Internet and Cable TV …
WFLD FOX is Channel 03 for standard definition
WFLD FOX Channel 202 HD for High Definition WFLDDT (FOX)
More info …
American Idol — americanidol.com
Haley Reinhart on Wikipedia — en.wikipedia.org/wiki/Haley_Reinhart
Previous headlines on this post …
American Idol Season 10: Haley Reinhart of Wheeling Going to Summer Tour
American Idol Season 10's Top 10 Plus 3 Wild Card List; Plus Haley Reinhart of Wheeling Makes Voters' Top Ten, Aurora's Ta-Tynisa Wilson Eliminated