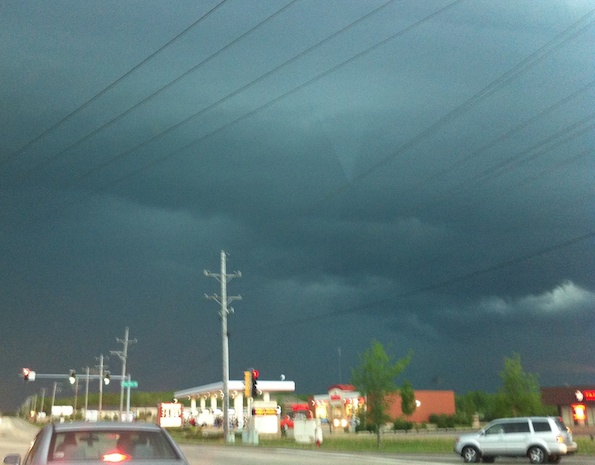 Photo of a funnel cloud near the intersection of Northwest Highway and Three Oaks looking west at about 7:35 p.m. CDT Sunday, May 22, 2011 [Courtesy Michael Ginsberg/3GSTORE.COM].
Photo taken during Tornado Watch 327 on Sunday, May 22, 2011 at about 7:35 p.m. after a funnel cloud was observed in windy conditions. Rain started about two minutes after the picture was taken.

Radar image below shows a possible hook echo about 7:50 p.m. Sunday just northeast of Cary, Illinois entering Lake County (The 7:35 p.m. frame was not available at the time review). The edge of the radar image took a path toward Winthrop Harbor. The location of the 'hook echo' is about where one would expect it to be 15 minutes after a funnel cloud sighting in Cary.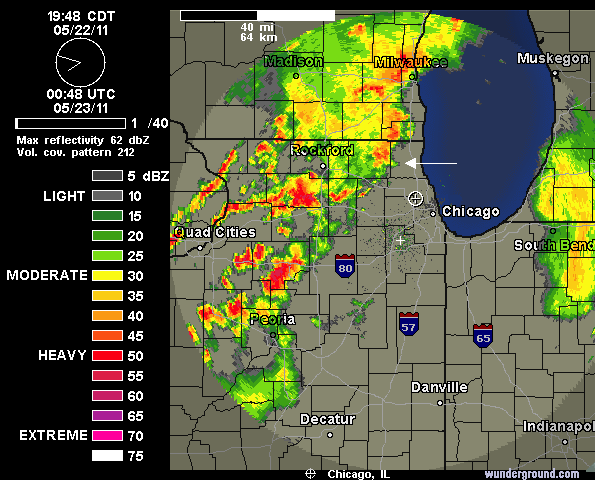 NEXRAD weather radar image at 7:50 p.m. Sunday showing possible minor hook echo image (white arrow), which was recorded about 15 minutes after the funnel cloud photo was taken. LIVE RADAR from wunderground.com.
Funnel clouds form most frequently in association with supercell thunderstorms. If they make ground contact, they are known as tornadoes. Most tornadoes begin as funnel clouds. Cary, Illinois is in southeast McHenry County, just west of Lake County, Illinois.