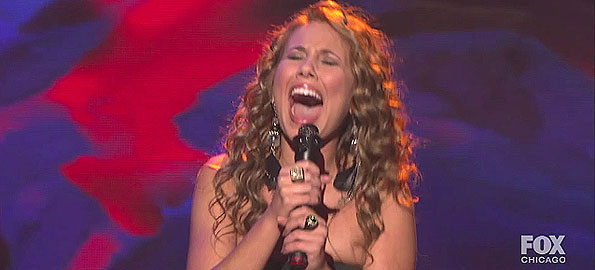 Haley Reinhart in top form back in March before voting for American Idol Season 10 (2011) semifinals.
May 5 Update
Haley Reinhart is one week away from a hometown parade in Wheeling, similar to the hometown parade held for Lee DeWyze last year in Mount Prospect. If she survives the American Idol voting next week, Haley will be back in Wheeling for a hometown celebration as the three other American Idol finalists celebrate in their hometowns.
Haley Reinhart & Casey Abrams performing The Animals' 'House of the Rising Sun'.
"You've grown by leaps and bounds on this show. I'm remembering when you just started with us … like … dude, you blossomed. You're so good now. That was amazing."
— Randy Jackson
"Sweet and sour. Raspy. I can really related to that, and that really sells a song. I think you sold everybody tonight."
— Steven Tyler
"I don't know if you came out a little angry at us from before? Whatever that little emotion was in the beginning … like 'I don't care I'm gonna sing by but off right now.' That song has never been sang (sic) like that before. Great job."
— Jennifer Lopez
April 28 Update
With a smile on her face she showed the world Thursday night — Haley Rinehart was the first American Idol to discover she was safe to advance to next week. Casey Abrams, was eliminated after both performed a duet of Carole King's 'I Feel the Earth Move' Wednesday night.
Haley Reinhart & Casey Abrams performing Carole King's 'I Feel The Earth Move'.
Haley Reinhart performing Carole King's 'Beautiful'.
"I didn't love the beginning but the end was great. The end was were I got a little bit more excited, the beginning was a little boring for me."
— Randy Jackson
"You have one of the best voices in this competition. Amazing."
— Jennifer Lopez
"I just saw God. I heard God in your voice. You nailed it."
— Steven Tyler
April 21 Update
Although she's been in the bottom three on four occasions, Haley Reinhart performed and survived at a fever pitch to the final six on Thursday.