Slow-Motion Video of Lightning from Long Grove House Fire Scene on Stayton Ln Sunday Night
VIDEO: Slow motion cloud-to-cloud lightning from a main storm just to the south of a fire scene in the 2200 block of Stayton Lane, Long Grove.
Buffalo Grove firefighters had just backed their Quint 27 into the driveway of a luxury home driveway in the 2200 block of Stayton Lane in Long Grove, Illinois to inspect the roof following a fire caused by lightning. The smaller ladder truck is a specialized ladder truck that is equipped for this type of work — driveways and tight cul de sacs.
As the the 'stick' was about to be raised and a firefighter turned on the right flood light equipped on the trucks main ladder, a bright display of cloud-to-cloud lightning was displayed in the southwest sky. Later more cloud-to-cloud lightning filled the sky as firefighters were on the ladder at the peak of the roof.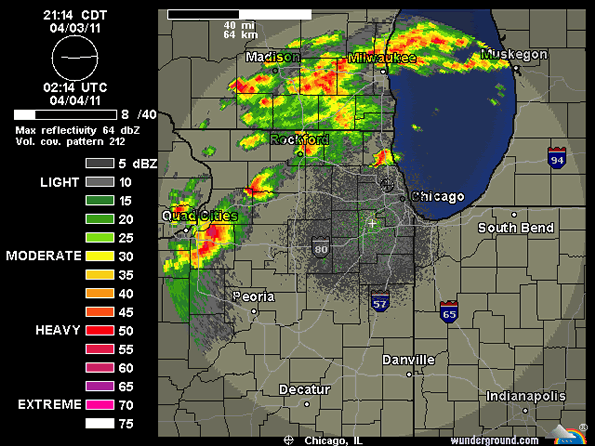 Weather radar image showing thunderstorm cell about the time that the storm produced lightning that struck a Long Grove luxury home and caused a fire.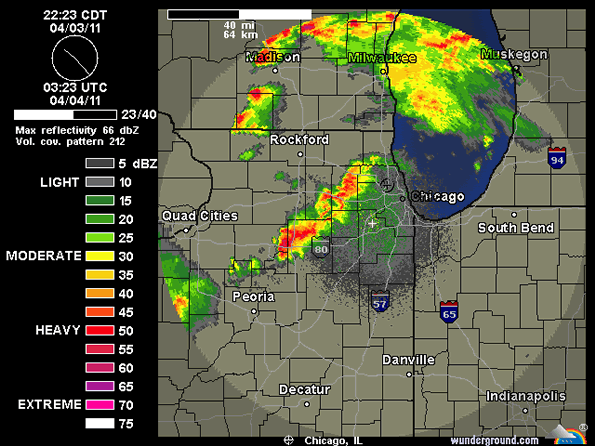 Weather radar image about the time of a spectacular cloud-to-cloud display of lightning seen behind Buffalo Grove Fire Department Quint 27. The upper band of the storm line dissipated as it passed Long Grove, southern Lake County and northern Cook County toward Lake Michigan.
See also …
Live weather radar image from Weather Underground …