Chicago police released a sketch of a man who struggled for a female commuter's iPhone as both were on the northbound Brown Line train that was stopped at the Fullerton 'L' station, 934 West Fullerton. About 4:20 p.m. Monday, March 28, 2011, when the doors opened, the offender grabbed the iPhone and jumped off of the elevated train and onto the elevated train platform. He then pushed a woman, Sally Katona-King, who was walking up the stairs toward the platform. Katona-King fell backward down about 12 steps and died at Illinois Masonic Medical Center from head trauma and multiple injuries from the fall. Her death has been ruled a homicide.
The suspect was last seen heading eastbound on Fullerton.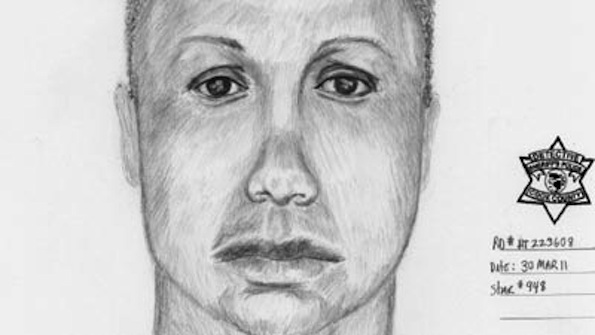 Police sketch of Fullerton CTA Station iPhone theft and homicide.
Police detectives continue to question train riders in the neighborhood, and hand out fliers with the sketch of the suspect's face.
Katona-King's second husband was a murder victim about 40 years ago. She worked as a receptionist at Evangelical Lutheran Church Metropolitan Chicago Synod.
Smartphone thefts are on the rise in Chicago and nationwide, but investigators are able to track and arrest criminals by tracing calls made with a stolen phone or by checking a phone's GPS position to locate the device.
Crime on the CTA rose 7.5 percent in 2010 and rose 17.4 percent in 2009.