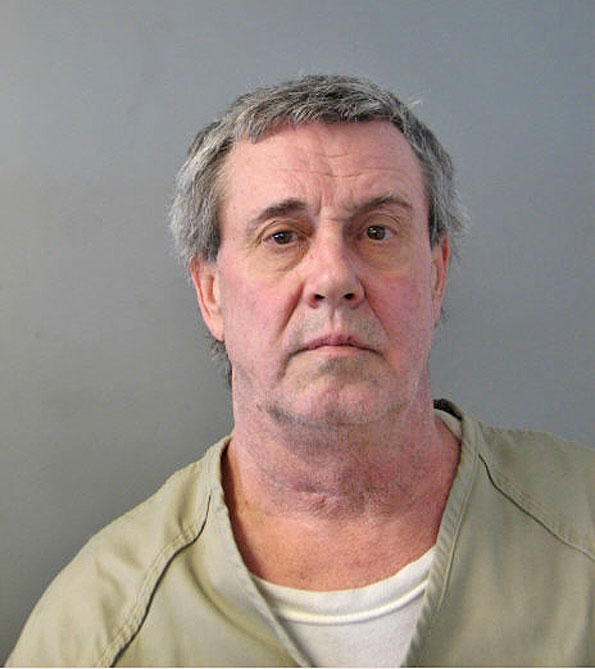 Michael Carlson, Cook County Sheriff's Police photo.
History of threats against female victim leads to jail, and then an offer of money to "hit man"
A Worth man is being held without bond after he was charged with trying to arrange for the murder of a female acquaintance even while he was being held in the Cook County Jail.
Michael Carlson, 59, is charged with solicitation of murder for hire as a result of an investigation by the Cook County Sheriff's Criminal Intelligence Unit – a unit based at the jail which investigates all crimes committed inside.

Last month, CIU investigators learned that Carlson had been harassing a former acquaintance and making threats against her. During the course of their work, they developed information that Carlson was looking for someone to carry out a "hit" against the same woman, who has had an order of protection against him since 2004.
Records show Carlson has a history of multiple arrests for harassment and violating an order of protection, along with separate arrests for disorderly conduct and carrying a handgun without a license. Carlson has been in jail since 2009 on the latest charges of harassing the same victim, which came after he was accused of paying someone to throw a brick through the window of her home.
Last week, a pair of gang investigators from the Cook County Sheriff's Police Department posed undercover, agreeing to arrange the murder Carlson sought.
Carlson told the investigators there was a "rodent" he wanted "exterminated" and that he was willing to make a $5,000 "donation" to make it happen. When officers showed him a picture of his victim, he confirmed that was the person he wanted killed.
Carlson is now being held in the maximum security division of the Cook County Jail.