Video Catches Convicted Felon Punching Elderly Man: MyFoxCHICAGO.com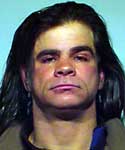 Dale Contursi
Dale Contursi, 47, of the 9600 block of West Higgins Road, was charged with a felony count of aggravated battery to a senior citizen after he returned to the scene of the crime that occurred on February 23, 2011.
About 2:00 p.m. Contursi allegedly punched an 80-year-old man who was waiting to use the bathroom at a grocery store in the 4700 block of North Cumberland Avenue. The crime was caught on surveillance video. Contursi fled the scene immediately after the attack, but returned to the store on March 2 at about the same time. He was recognized by security personnel, who called police. Jefferson Park District tactical officers responded and viewed a still image of the suspect that committed the crime, which was taken off of the video of the assault.
Police worked a concentrated search of the neighborhood and found Contursi sitting on church steps in the 4900 block of North Cumberland Avenue.
Contursi was held on $350,000 bond on March 3. A preliminary hearing was scheduled for March 16.
The elderly man suffered facial bruising and swelling, after he was pushed in the chest and then punched in the face. The man was not hospitalized.