Interview with Harley Benz, U.S. Geological Survey, the earthquake is the fifth largest recorded since the beginning of the 21st century, seventh largest all-time, and largest in Japan.
The Great Japan Earthquake of 2011 began about 2:45 p.m. Friday with the damage starting on the large shaking island of Honshu, but the Tsunami caused by the earthquake did the most damage. In Sendai City, 200 to 400 bodies were discovered. By the end of the day 1,000 are presumed dead, most drowned in the tsunami. Thousands more were stranded on rooftops. Damage is enormous. Three nuclear plants are also damaged. Hundreds of houses and small buildings and thousands of cars were floating in rushing water crowded with other debris. An oil refinery on Tokyo Bay was burning fiercely after the earthquake.

Video inside a store at the Mitsui Outlet Park in Sendaiko, Japan shows employees struggling to keep merchandise from shaking off grocery store shelves during the earthquake that struck Japan.
Tsunami is a Japanese word for 'harbor wave'

"Today's events remind us just how fragile life can be." President Barack Obama says the earthquake and tsunami in Japan are a potentially 'catastrophic' disaster, and he says his thoughts and prayers are with the Japanese people.

Honshu is the largest island of Japan, and literally means 'Main State'. The nation's main island, it is south of Hokkaido across the Tsugaru Strait, north of Shikoku across the Inland Sea, and northeast of Kyushu across the Kanmon Strait. It is the seventh largest island in the world, and the second most populous after Java in Indonesia.
LARGEST EARTHQUAKES IN MAGNITUDE TO DATE
Sendai Earthquake is seventh largest all-time and fifth largest since the 21st century
DATE LOCATION NAME MAGNITUDE
05/22/1960 Valdivia, Chile 1960 Valdivia Earthquake 9.5
03/27/1964 Prince William Sound 1964 Alaska Earthquake 9.2
12/26/2004 Sumatra, Indonesia 2004 Indian Ocean Earthquake 9.1
11/04/1952 Kamchatka, Russia Kamchatka Earthquakes 9.0
08/13/1868 Arica, Chile(Peru) 1868 Arica Earthquake 9.0
01/26/1700 Pacific Ocean 1700 Cascadia Earthquake 8.9
03/11/2011 Sendai, Japan 2011 Sendai Earthquake 8.9
02/27/2010 Maule, Chile 2010 Chile Earthquake 8.8
12 to 20 powerful aftershocks, seven of them at least 6.3 magnitude.
Honshu had a population of 103 million in 2005, (98,352,000 as of 1990; in 1975 it was 89,101,702), mostly concentrated in the available lowlands, notably in the Kantō plain where 25% of the total population reside in the Greater Tokyo Area, which includes Tokyo and Yokohama, Kawasaki, Saitama and Chiba cities. Most of the nation's industry is located along the belt running from Tokyo along Honshu's southern coastal cities, including Kyoto, Osaka, Nagoya, Kobe, and Hiroshima, part of the Taiheiyo Belt.
The island is nominally divided into five regions and contains 34 prefectures, including metropolitan Tokyo. The regions are Chūgoku (western), Kansai (southern, east of Chūgoku), Chūbu (central), Kantō (eastern), and Tōhoku (northern). Some smaller islands are included within these prefectures, most prominently Ogasawara Islands, Sado Island, Izu Oshima, and Awaji Island.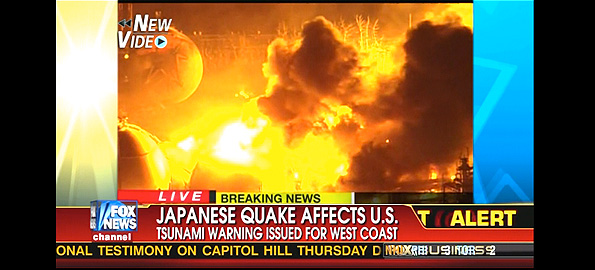 Cosmo Oil Refinery fire on the east side of Tokyo Bay.

VIDEO: Cars floating in water, boats smashing into bridges and each other.
More Details …
A dam broke early Saturday local time in Fukushima Prefecture, destroying additional houses where 1,800 homes were already destroyed by the quake
Bullet train carrying hundreds of passengers in Miyahi region missing.
A ship carrying 100 people presumed swept away by the tsunami is missing
A large ship was beached by the tsunami and smashed into a breakwater in Kesennuma city in the Miyagi region
More than 4 million people are without electric power
A hotel collapsed in Sendai
Fourteen fires in Tokyo
Sendai airport underwater
Floating, burning houses in Sendai, Myagi
Large whirlpool formed in harbor near Oarai City