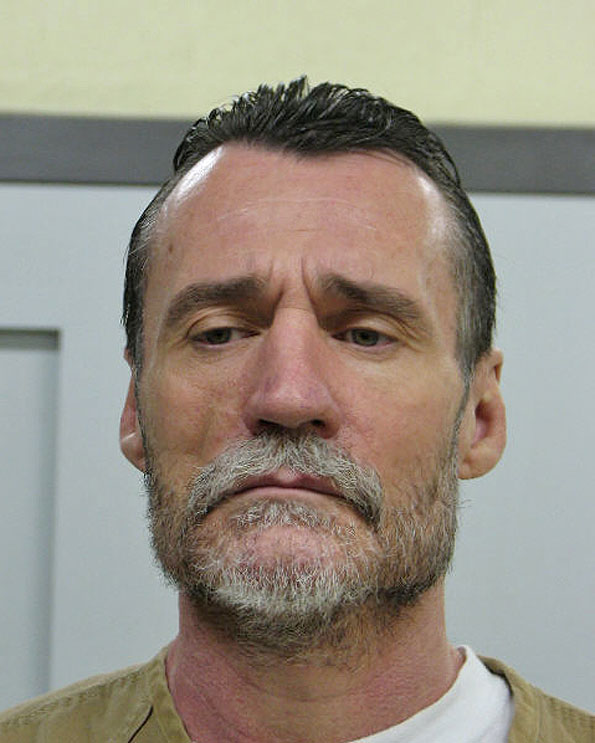 David Sidener (Cook County Sheriff's Police photo)
Fails in bartering effort to get murder charge dismissed
An Indiana man already behind bars on a 1st degree murder charge is now charged for his part in a scheme to smuggle bullets and other weapons into the Cook County Jail, Cook County Sheriff Thomas J. Dart announced Wednesday.
David Sidener, 52, of Evansville, is charged with two counts of possession of contraband in a penal institution. Because that contraband was bullets and gunpowder, the charges rise to class X felonies – the most serious class offense in Illinois.

An investigation by the Cook County Sheriff's Criminal Intelligence Unit found that Sidener planned to use his knowledge of the location of these weapons in an effort to curry favor with investigators and prosecutors, in hopes to secure a "deal" where his murder charge could be dropped in exchange for his cooperation in revealing those locations.
Sidener has been held without bond in the Cook County Jail since October 2008 on charges of first degree murder and robbery. He is accused of beating Randall Hilderbrand to death after the two left a Lakeview bar and went to Lucca's Restaurant, where Hilderbrand was the manager. Hilderbrand, 47, was viciously beaten and tied up in the basement of the restaurant while Sidener looted it of cash. Hilderbrand was found dead the next morning. Sidener was on parole for attempted murder at the time of his arrest.
While awaiting trial, Sidener has been held in the psychiatric wing of Division 10, a maximum security jail division. On Feb. 25, he contacted CIU investigators with a tip about a weapon being hidden inside the jail. Sidener said he would only reveal the location of the weapons if his murder charge could be dropped – something investigators said they couldn't do. When they asked more questions about its location, Sidener refused to cooperate and said the information would instead be leaked to Chicago media.
As investigators led him back to his cell, he said "this is not how I planned it would go."
CIU investigators then immediately began a detailed investigation and learned Sidener had been in regular communication with a Cermak Hospital therapist. They also learned that therapist had recently received two packages mailed to Cermak from Sidener's hometown.
Hours later, Sidener contacted CIU and told them he was willing to provide investigators with information about the weapons. His information, coupled with interviews already conducted, led investigators to a room where the therapist meets with detainees. Hidden inside a film projector, under a screwed-on cover, were 15 .22-caliber bullets. Investigators also took apart a CD player to find a plastic baggie packed with gun powder.
Sidener said he convinced the therapist to receive the devices as "donations" to his therapy program. Investigators learned Sidener had arranged for another electronic device to be shipped to the therapist at Cermak in the coming days and hidden inside would be pieces that could be used to construct a small "zip gun." That package never arrived at Cermak.
On March 9, investigators drove to Evansville and along with the Evansville Police Department, carried out search warrants and interviews. That resulted in the arrest of Sidener's 56-year-old half-brother, Michael Ward, by Evansville police. He was charged with manufacturing hoax devices after police found what appeared to be a bomb in his home. He did not answer questions from investigators about the packages shipped to Cermak Hospital.
The Cermak Hospital therapist who received the packages from Evansville has been questioned, but said he can't recall being asked to be part of any smuggling scheme. The Cook County Health and Hospital System has suspended the therapist without pay.
Since this incident, Dart has implemented a new policy for items mailed to Cermak. Those packages now must first be delivered to the jail's external operations staff, which oversees all incoming mail for the jail. Those officers then transport the package to Cermak, where they oversee it being opened by the appropriate staff, who verify the contents and sign documentation confirming the identity of the sender and the items inside.
Sidener was charged on Monday and bond was set at $1 million Tuesday – meaning that even after his trial for murder and armed robbery have concluded, he can be held on this bond to face these charges. His next court date on these charges is set for April 12.
Activities of others involved in the scheme continue to be under investigation by CIU.