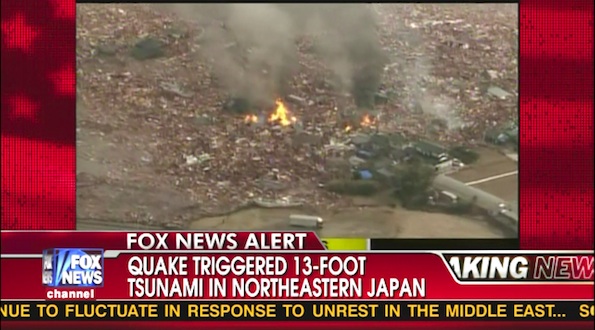 Video frame showing fire, floating semi-trailer truck, floating debris, ships and boats in rushing water (foxnews.com/NHK TV Japan Broadcasting Corporation).
An earthquake with a magnitude of 8.9 has struck near the east coast of Honshu, Japan.

Significant loss of life and heavy damage expected. The earthquake occurred two days after a 7.2 quake hit in the same area.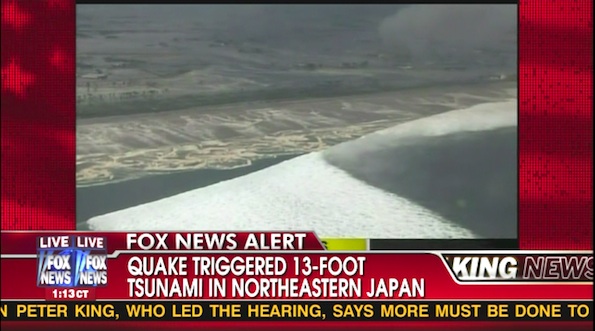 Tsunami edge showing coastline advance of Tsunami
(foxnews.com/NHK TV Japan Broadcasting Corporation)
A 13-foot wall of water (Tsunami) hit the coast of Japan closest to the eipicenter off to the northeast of Japan. In a Tsunami the water rushes away from the coast before the surge hits.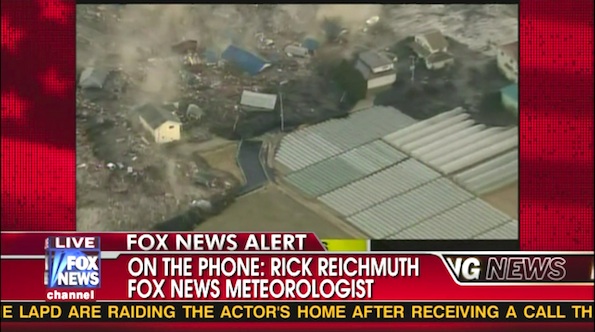 Tsunami video still view, presumably from helicopter, showing clearly marked edge of advancing rush of water with homes floating in the water. (foxnews.com/NHK TV Japan Broadcasting Corporation)

Oil refinery fire after earthquake and tsunami in northeastern Japan (foxnews.com/NHK TV Japan Broadcasting Corporation).
Kesennuma, Miyagi is a city located in the extreme northeast of Miyagi Prefecture, Japan. It wraps around the western part of Kesennuma Bay, and also includes the island of Ōshima. Its coastline forms the southern boundary of the Rias Coastline National Park, which stretches north all the way to Aomori Prefecture. Miyagi is a prefecture of Japan located in the Tōhoku Region on Honshu island. The capital is Sendai.
The Sendai Airport is completely under water and closed. At least two Toyota plants area closed. Six Sony plants are closed.
Tokyo not a major hit, but injuries are being reported about 0731 UTC. At least six fires were reported in Tokyo. Four million without electric power in Tokyo.
Nuclear power plants have been stopped automatically.
The pictures showing devastation involve a Tsunami.
High speed bullet trains were stopped immediately as a precaution.
Earthquake Location Information …
38.322°N, 142.369°E
130 km (80 miles) E of Sendai, Honshu, Japan
178 km (110 miles) E of Yamagata, Honshu, Japan
178 km (110 miles) ENE of Fukushima, Honshu, Japan
373 km (231 miles) NE of TOKYO, Japan
HAWAII UPDATED TO TSUNAMI WARNING AT ABOUT 7:33 UTC.
NOAA has issued a tsunami watch for the coast of Hawaii. Tsunami alerts initiated for much of Pacific Ocean. Earliest time Hawaii could be hit is about 3:00 a.m. Hawaii Time. The Tsunami wave would hit the west side of Hawaii — coming from Japan. But Tsunami waves can WRAP AROUND AN ISLAND.
Tsunamis can move over open water as fast as 500 miles per hour.
TSUNAMI BULLETIN NUMBER 001
PACIFIC TSUNAMI WARNING CENTER/NOAA/NWS
ISSUED AT 0555Z 11 MAR 2011
THIS BULLETIN APPLIES TO AREAS WITHIN AND BORDERING THE PACIFIC
OCEAN AND ADJACENT SEAS…EXCEPT ALASKA…BRITISH COLUMBIA…
WASHINGTON…OREGON AND CALIFORNIA.
… A TSUNAMI WARNING AND WATCH ARE IN EFFECT …
A TSUNAMI WARNING IS IN EFFECT FOR
JAPAN / RUSSIA / MARCUS IS. / N. MARIANAS
A TSUNAMI WATCH IS IN EFFECT FOR
GUAM / WAKE IS. / TAIWAN / YAP / PHILIPPINES / MARSHALL IS. /
BELAU / MIDWAY IS. / POHNPEI / CHUUK / KOSRAE / INDONESIA /
PAPUA NEW GUINEA / NAURU / HAWAII
FOR ALL OTHER AREAS COVERED BY THIS BULLETIN… IT IS FOR
INFORMATION ONLY AT THIS TIME.
THIS BULLETIN IS ISSUED AS ADVICE TO GOVERNMENT AGENCIES. ONLY
NATIONAL AND LOCAL GOVERNMENT AGENCIES HAVE THE AUTHORITY TO MAKE
DECISIONS REGARDING THE OFFICIAL STATE OF ALERT IN THEIR AREA AND
ANY ACTIONS TO BE TAKEN IN RESPONSE.
AN EARTHQUAKE HAS OCCURRED WITH THESE PRELIMINARY PARAMETERS
REPORTED BY THE JAPAN METEOROLOGICAL AGENCY.
ORIGIN TIME – 0546Z 11 MAR 2011
COORDINATES – 38.0 NORTH 142.9 EAST
DEPTH – 10 KM
LOCATION – NEAR EAST COAST OF HONSHU JAPAN
MAGNITUDE – 7.9
EVALUATION
IT IS NOT KNOWN THAT A TSUNAMI WAS GENERATED. THIS WARNING IS
BASED ONLY ON THE EARTHQUAKE EVALUATION. AN EARTHQUAKE OF THIS
SIZE HAS THE POTENTIAL TO GENERATE A DESTRUCTIVE TSUNAMI THAT CAN
STRIKE COASTLINES NEAR THE EPICENTER WITHIN MINUTES AND MORE
DISTANT COASTLINES WITHIN HOURS. AUTHORITIES SHOULD TAKE
APPROPRIATE ACTION IN RESPONSE TO THIS POSSIBILITY. THIS CENTER
WILL MONITOR SEA LEVEL DATA FROM GAUGES NEAR THE EARTHQUAKE TO
DETERMINE IF A TSUNAMI WAS GENERATED AND ESTIMATE THE SEVERITY OF
THE THREAT.
ESTIMATED INITIAL TSUNAMI WAVE ARRIVAL TIMES AT FORECAST POINTS
WITHIN THE WARNING AND WATCH AREAS ARE GIVEN BELOW. ACTUAL
ARRIVAL TIMES MAY DIFFER AND THE INITIAL WAVE MAY NOT BE THE
LARGEST. A TSUNAMI IS A SERIES OF WAVES AND THE TIME BETWEEN
SUCCESSIVE WAVES CAN BE FIVE MINUTES TO ONE HOUR.
LOCATION         FORECAST POINT     COORDINATES     ARRIVAL TIME
 JAPAN            KATSUURA           35.1N 140.3E    0635Z 11 MAR
                  KUSHIRO            42.9N 144.3E    0642Z 11 MAR
                  HACHINOHE          40.5N 141.5E    0700Z 11 MAR
                  SHIMIZU            32.8N 133.0E    0756Z 11 MAR
                  OKINAWA            26.2N 127.8E    0912Z 11 MAR
 RUSSIA           URUP_IS            46.1N 150.5E    0714Z 11 MAR
                  SEVERO_KURILSK     50.8N 156.1E    0834Z 11 MAR
                  PETROPAVLOVSK_K    53.2N 159.6E    0836Z 11 MAR
                  UST_KAMCHATSK      56.1N 162.6E    0840Z 11 MAR
                  MEDNNY_IS          54.7N 167.4E    0903Z 11 MAR
 MARCUS IS.       MARCUS_IS.         24.3N 154.0E    0757Z 11 MAR
 N. MARIANAS      SAIPAN             15.3N 145.8E    0853Z 11 MAR
 GUAM             GUAM               13.4N 144.7E    0909Z 11 MAR
 WAKE IS.         WAKE_IS.           19.3N 166.6E    0925Z 11 MAR
 TAIWAN           HUALIEN            24.0N 121.7E    0932Z 11 MAR
                  HUALIEN            24.0N 121.6E    0933Z 11 MAR
                  TAITUNG            22.7N 121.2E    0936Z 11 MAR
                  CHILUNG            25.2N 121.8E    1004Z 11 MAR
 YAP              YAP_IS.             9.5N 138.1E    0944Z 11 MAR
 PHILIPPINES      PALANAN            17.1N 122.6E    0955Z 11 MAR
                  LEGASPI            13.2N 123.8E    1026Z 11 MAR
                  DAVAO               6.8N 125.7E    1053Z 11 MAR
 MARSHALL IS.     ENIWETOK           11.4N 162.3E    1013Z 11 MAR
                  KWAJALEIN           8.7N 167.7E    1044Z 11 MAR
                  MAJURO              7.1N 171.4E    1124Z 11 MAR
 BELAU            MALAKAL             7.3N 134.5E    1025Z 11 MAR
 MIDWAY IS.       MIDWAY_IS.         28.2N 182.6E    1026Z 11 MAR
 POHNPEI          POHNPEI_IS.         7.0N 158.2E    1027Z 11 MAR
 CHUUK            CHUUK_IS.           7.4N 151.8E    1034Z 11 MAR
 KOSRAE           KOSRAE_IS.          5.5N 163.0E    1043Z 11 MAR
 INDONESIA        GEME                4.6N 126.8E    1049Z 11 MAR
                  BEREBERE            2.5N 128.7E    1058Z 11 MAR
                  WARSA               0.6S 135.8E    1110Z 11 MAR
                  MANOKWARI           0.8S 134.2E    1118Z 11 MAR
                  PATANI              0.4N 128.8E    1124Z 11 MAR
                  JAYAPURA            2.4S 140.8E    1135Z 11 MAR
                  SORONG              0.8S 131.1E    1135Z 11 MAR
 PAPUA NEW GUINE  MANUS_IS.           2.0S 147.5E    1124Z 11 MAR
                  KAVIENG             2.5S 150.7E    1124Z 11 MAR
                  VANIMO              2.6S 141.3E    1134Z 11 MAR
                  WEWAK               3.5S 143.6E    1146Z 11 MAR
                  RABAUL              4.2S 152.3E    1154Z 11 MAR
 NAURU            NAURU               0.5S 166.9E    1149Z 11 MAR
NOAA PACIFIC TSUNAMI WARNING CENTER
http://www.weather.gov/ptwc/