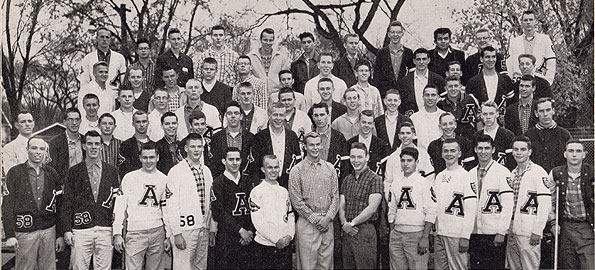 Scott Adam in the 1958 'A' Club yearbook picture from Arlington High School (Top row, second from left).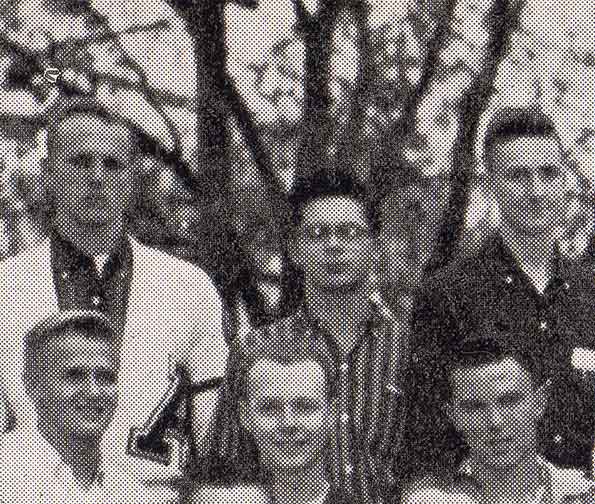 Scott Adam, top-middle (enlarged).
LAWEEKLY Blogs describes Jean and Scott Adam as two outdoorsy Orange County missionaries who belonged to Saint Monica Catholic Church in Santa Monica and the Del Rey Yacht Club in Marina Del Rey. The couple decided in 2001 to take the Holy Word to the open seas, sailing to foreign lands on their custom-built "S/V Quest" and handing out Bibles to the natives. Last Friday, their yacht was hijacked and they were held hostage in the open waters in the Arabian Sea. There home base church, Saint Monica Catholic Church, which includes members Brook Shield, Martin Sheen, Kelsey Grammar, Arnold Schwarzenegger, Maria Shriver, and Tony Danza, was praying and hoping for their safe return. But Tuesday their dedicated service and adventure was terminated by Somali pirates after a hijacking that began Friday of the coast of Oman.
Scott Adam grew up in Prospect Heights, and graduated from Arlington High School in 1958. He was a member of the A Capella Choir as a senior. He was listed in Dramatics all four years at Arlington and was in the National Thespian Society sophomore through senior years. He was on the wrestling team freshman through junior years, was the wrestling manager his senior year, and a member of the 'A' club his junior and senior year. He wrote for THE CARDINAL sophomore and senior year, and was involved with the HEIGHTS yearbook his freshman year.
Before his retirement he worked as a Motion Picture Producer and Production Manager, and listed his residence as Studio City, California. He was a student of Arlington High School teacher and leader of the school theatre program, Doug Murphy, who also passed away recently — February 16, 2011 after an extended illness.
At Scott Adam's family's request, anyone who would like to send cards may do so in care of St. Monica Catholic Community, 725 California Avenue, Santa Monica, CA, 90403. Further, if anyone wishes to make a donation on behalf of Jean and Scott Adam, the family has asked that memorial gifts be given for the St. Monica Catholic Church Music Program (see website).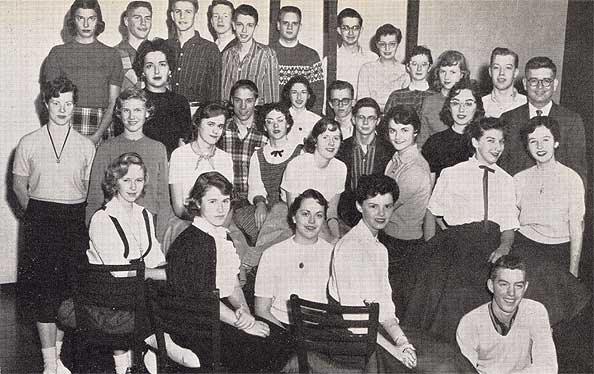 Drama Club Photo: Doug Murphy, far right in the third row with Scott Adam (third student to the left of Murphy in dark striped shirt).

Four yachting enthusiasts from California and Washington became the first Americans slain by Somali pirates since a wave of attacks began six years ago.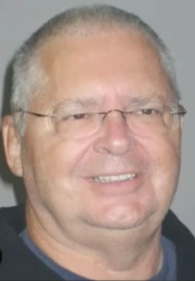 Scott Adam
Jean and Scott Adam, a couple from California, and Phyllis Macay and Bob Riggle, of Seattle, Washington, who had been sailing around the world since December 2004 with a 58-foot yacht carrying Bibles, were shot and killed on February 22, 2011 by Somali pirates as four U.S. warships trailed their vessel 'The Quest'.
U.S. naval forces were trailing the Americans' captured yacht with four warships. U.S. Central Command says negotiations were underway to free the hostages when gunfire erupted aboard the pirated vessel.
With negotiations underway, the pirates fired a rocket-propelled grenade at the USS Sterett DDG-104 (a 509-foot guided missile destroyer similar to the USS Cole — the destroyer attacked in 2000 while docked in the Yemeni port of Aden). Small arms fire erupted onboard the Quest, and 15 Navy SEAL commandos stormed the yacht. The hostages were found dead or dying. Rescuers tried to provide lifesaving care to the four Americans, but the Adams and Macays were killed. Officials said it was unclear whether the Adams and the Macays had been executed or killed in the pirates' cross-fire. While storming the Quest, Navy Seals shot and killed one pirate and stabbed another. Two pirates died during the confrontation and 13 were captured and detained. The remains of two other pirates who were already dead for some time were also found, according U.S. Central Command. A total of 19 pirates are believed to be involved in the hijacking.
The shooting deaths mark the first known deaths of hostages at the hands of Somali pirates. At least one of the arrested pirates has claimed that killing hostages is the new standard operating procedure when pirates are pursued.


View Larger Map
Satellite image showing Arabian Sea off of coast of Oman.

View Larger Map
Wider view of the region around Somalia, Oman and the Arabian Sea.