Cops episodes are available for 29 days after air. The Fox feature 'Cops: Dazed & Confused #3' (Episode 23/15) had an air date for Saturday, February 19, 2011.
Episode 23/15 featured the Cook County Sheriff "Jump Out Boys," which showed a routine traffic stop by south suburban gang Investigators Edward Barksdale and Matthew Gena, and resulted in multiple arrests. The Cook County Sheriff officers are shown in the second segment. The first segment shows the Pierce County Sheriff's Department South Hill Precinct, Pierce County, Washington. The third segment shows the Hillsborough County Sheriff's Office District 2, Hillsborough County, Florida. Similar to Cook County Sheriff duties, the Hillsborough County Sherriff's covers unincorporated areas in Hillsborough county. Tampa, Florida is one of three incorporated cities in Hillsborough County.
"COPS" TO FEATURE SHERIFF'S OFFICERS AND LOCAL RESIDENTS
Summer filming captured interactions across Cook County suburbs
A national spotlight is set to shine this weekend on front-line officers from the Cook County Sheriff's Office, as "Cops" airs footage captured when production crews rode along with police officers here last summer.
"Casting Stones" is a segment set to air during the 7 p.m. Saturday episode airing nationally on Fox Broadcasting stations and locally on Fox-32.
It was the first time the popular Fox Broadcasting program had accompanied a local agency in the Chicago area in the show's 22-year history. Langley Productions assigned camera crews to spend six weeks riding with patrol and gang crimes officers with the Cook County Sheriff's Police Department as they carried out their duties throughout the suburbs.

Though the crews were exposed to search warrants, fugitive hunts and gang/narcotics investigations, they gravitated toward those calls for officers which on the surface may have seemed routine, but which resulted in an outcome that was anything but routine. They include several light-hearted moments but also feature scenes showing arrests, along with strong lessons for others.
"We were excited to partner with 'Cops' and couldn't have had a better experience with their staff," Sheriff Thomas J. Dart said. "We wanted to give everyone a glimpse of just some of what our officers do and some of the things they go through as they attempt to serve and protect Cook County residents. I'm incredibly proud of our officers, the work they do and the professionalism they show, whether cameras are around or not."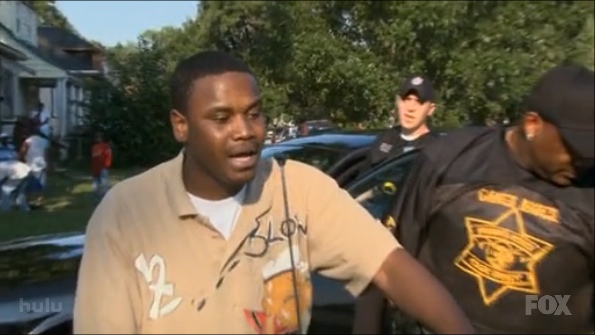 Still frame from 'Cops' episode 23/15 showing Cook County Sheriff traffic stop.
Three segments have had air dates scheduled by Fox. Last Saturday, Fox aired "Jump Out Boys," which featured a routine traffic stop by south suburban gang Investigators Edward Barksdale and Matthew Gena, which resulted in multiple arrests. Saturday's episode, "Casting Stones," features Skokie Patrol Officer Robert Almeida responding to an incident at a northwest suburban apartment complex involving multiple juveniles. On March 12, Fox will debut "Cat House," which shows how Rolling Meadows Patrol Officer Robert Mousel handled a call involving more than 100 cats living inside an abandoned trailer in a northwest suburban trailer park.
Each episode is available to view on cops.com, hulu.com or for purchase on iTunes