Chevy Avalanche Crashes Off of Will Rogers Turnpike into Spring River, Miami, OK
At least three people were killed Thursday when the pickup truck they were in went off of a snow-covered interstate bridge and plunged 80 feet into the icy Spring River below. Miami, Okla. police say 8 people were in the truck.
Miami (Oklahoma) Fire Department responded about 6:20 a.m. Thursday to report of a vehicle over the Will Rogers Turnpike (I-44) bridge and into the Spring River.
The vehicle in the crash appears to be a Chevrolet Avalanche Z-71 with the letters ENRIQUE at the top of the windshield.
Eight victims transported to the hospital with three reported dead.
Miami Fire Department was assisted with a large response from rescue squads and ambulances from Newton County and Wyandotte dive teams, National Guard, Quapaw EMS and six Med Flight helicopters.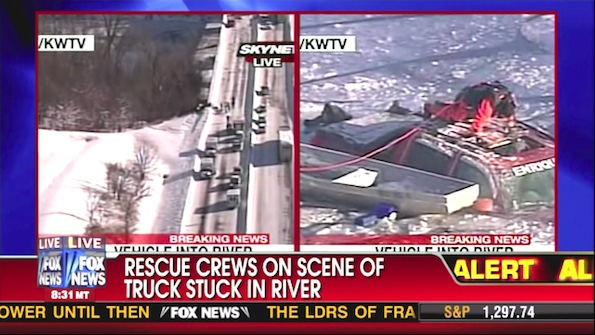 Fox News live shot of scene of a truck floating in the Spring River with rescue work (FOX NEWS — foxnews.com)