UNDERAGE SEX ASSAULT VICTIM CONTRACTS STD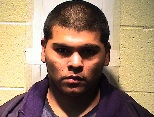 Sexual Assault Suspect
Allen Giron (Cook County
Sheriff Police Photo)
Bond has been set at $100,000 for a Glenview man who engaged in sex acts with a 13-year-old girl, causing her to contract a sexually transmitted disease, Cook County Sheriff Thomas J. Dart announced Sunday.
Allen Giron, 18, of the 10300 block of Michal Todd Terrace in Glenview, has been charged with one count of criminal sexual assault. He appeared in Skokie bond court on Saturday.
Cook County Sheriff's Police first learned of the incident when the teen's sister contacted authorities. A patrol officer responded to the family's Des Plaines home for further investigation.
The sister told police that a doctor had recently diagnosed the victim with herpes. It was at that time the victim told her sister she had at least two sexual encounters with Giron. The first sexual assault took place on November 28th, 2010 and occurred in the women's restroom at a fast food restaurant in Niles. A second sexual encounter took place on December 6th, 2010 at Giron's home in Glenview.
Police took the victim to the Children's Advocacy Center in Hoffman Estates to speak with counselors there, and detectives continued their investigation into Giron. On January 13th, Giron was located at his residence and taken to police headquarters in Maywood, where he provided detectives with a written statement detailing the sexual encounters. After further interviews of family members, the Cook County State's Attorneys Office approved felony charges.