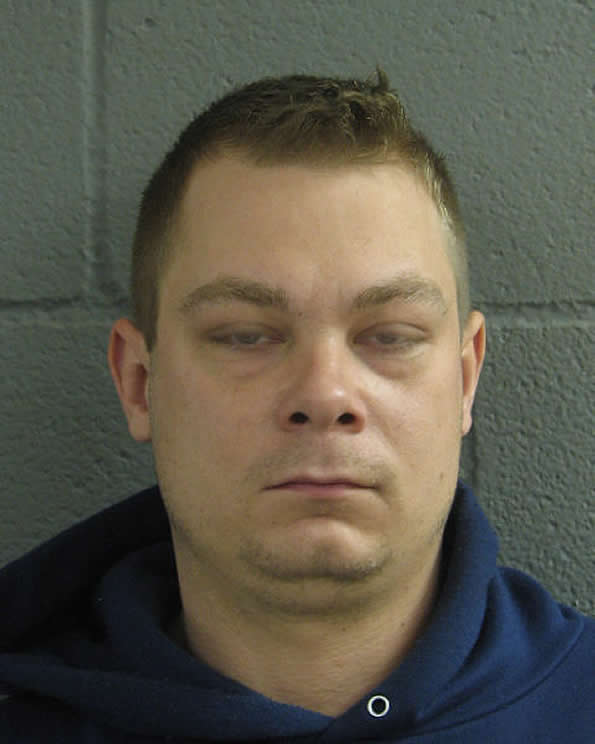 Burglary suspect Bradley Ott (Cook County Sheriff's Police Photo).
A Franklin Park man caught in the act of burglarizing a west suburban home is being investigated for additional crimes, Cook County Sheriff Thomas J. Dart announced Thursday.
Bradley Ott, 26, of the 2400 block of North Mannheim Road, Franklin Park, has been charged with one count of residential burglary. Additional charges from other jurisdictions are likely.
In a written confession, Ott told police that on January 11th he was casing homes on the 10000 block of Alteld Street in Leyden Township, searching for a house to burglarize. After ringing and knocking on various doors, Ott eventually found a house where no one answered. Ott also checked homes on either side of his target house to see if anyone answered those doors.

Ott then used a brick to break the glass of the entry door so he could reach in and turn the handle. After quickly searching the house for items to steal, Ott took video games, jewelry, money, an IPod and a checkbook.
Ott didn't realize the homeowner was actually inside the residence, hiding in a closet with her young daughter. The woman was able to call 911 and report that someone had broken into her home. A Cook County Sheriff's Police patrol officer happened to be nearby, and arrived within minutes. As Ott tried to exit the home, the officer apprehended him, and placed him under arrest without incident.
After his arrest, Ott admitted committing a number of other burglaries, including homes in Franklin Park, Elmwood Park, and Norridge. Ott told investigators that he took money, jewelry, silverware and other valuables from the homes. Many of the items were pawned in exchange for money to fuel Ott's drug habit. During a search of Ott's residence on January 11th, sheriff's police officers found items from other homes that had been burglarized. Investigators are now working with other agencies to determine if Ott has other victims.
Bradley Ott's bond was set for $17,000 on Thursday. His next court date is January 20th in Maywood.