CHICAGO BEARS BEAT SEATTLE SEAHAWKS: 35-24; THE CHICAGO BEARS WILL HOST THE GREEN BAY PACKERS 2 PM CT ON FOX FOR THE NFC CHAMPIONSHIP GAME ON JANUARY 23, 2011 (FOX originally announced a 1 PM game time)
The Chicago Bears will host the Green Bay Packers in the NFC Title Game on Sunday, January 23, 2011. Jay Cutler threw and ran for four touchdowns to lead the victory against the Seattle Seahawks.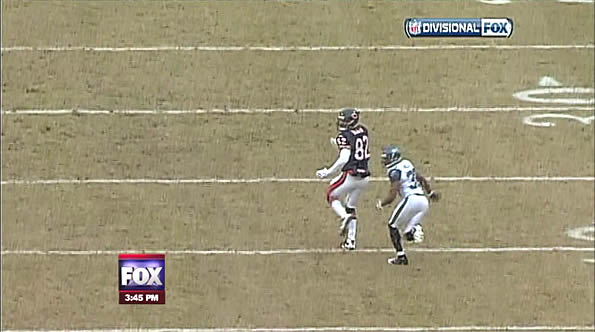 Chicago Bears Greg Olsen #82 caught a 58-yard touchdown pass from Quarterback Jay Cutler (foxsports.com).
The Bears-Packers rivalry began in 1921 and has grown to be the NFL's longest rivalry with 181 regular season and post season games. Next Sunday is scheduled to be the second time the Bears and Packers will clash in a playoff game since 1941, when the Bears beat the Packers 33-14 (December 14, 1941). The game was the first and so far only playoff meeting between these two rivals, the Bears were victorious in a one-game-playoff to determine the Western Division championship. After beating the Packers, the Bears defeated the New York Giants en route to their fourth NFL Championship.
In 1921 it was the Chicago Staleys that beat the Green Bay Packers.
This season the two teams split during the regular season.
In the most recent game the Green Bay Packers beat the Chicago Bears — Packers 10, Bears 3 (January 2, 2011). With the playoffs looming, the Packers needed a win to survive and clinch a playoff berth. The Chicago Bears had already clinched the #2 playoff seed and had nothing to play for, but chose not to rest their starters. The score was 3-0 in the Bears favor, until the Packers tied it in the third quarter. The Packers took the lead in the fourth quarter by scoring on a 1-yard completion by Aaron Rodgers. Later in the quarter, with the Bears pinned near the 2-yard line, Jay Cutler drove the ball down the field only to be picked off by the Packers safety Nick Collins, ending the game and earning the Packers a place in the 2010-2011 playoffs as the #6 seed. The game was the last day of the season.
OVERAL RECORD OF THE BEARS VS. PACKERS
As of January 2, 2011, there have been 181 competitive meetings between the Chicago Bears and the Green Bay Packers — the most in NFL history. Since the first league meeting in 1921, the Bears have won 92 and the Packers 82.
SUPER BOWL?
Winners of the Bears-Packers NFC Title will play the winners of the AFC Title game between the Pittsburgh Steelers and the New York Jets.

Jay Cutler accounted for four touchdowns, as the Bears beat the Seahawks 35-24 in the NFC playoffs Sunday. Chicago scored touchdowns on three of its first four possessions and will play Green Bay next weekend.