Tornadoes fueled by unusually warm weather pummeled the South and Midwest on Friday, killing at least six people and injuring dozens more across Arkansas, Missouri and Illinois.
A deadly tornado has been reported in Cincinnati, Arkansas, near the Oklahoma state line in Washington County. Early report was out that a brick home, a mobile home and a barn were destroyed by a tornado that touched down just before sunrise. Gerald Wilson, 88, and his wife, Mamie, 78, died in their home. Dick Murray, 78, died after being caught by the storm while milking cows.
The same weather system caused a tornado south of Rolla, Missouri. In Dent County, south-central Missouri, 21-year-old Megan Ross and her 64-year-old grandmother Loretta Anderson died at a Lecoma farm where their family lived in three mobile homes and two frame houses. Debris from one of the trailers was found a mile away.

The third woman, Alice Cox, 69, of Belle, Missouri, was killed north of Rolla and not far from Lecoma, when a tornado destroyed a home.
The Missouri fatalities were about 100 miles southwest of the major population area of St. Louis, Missouri.
The line of storms passed through Oklahoma early Friday into northwest Arkansas, southwest Missouri and upward through Illinois and Chicagoland. Thundershowers rolled as far north as northeast Illinois and Chicagoland on the last winter day of 2010. Lightning flashed and thunder was heard in Arlington Heights, Illinois at about 6:20 a.m. Friday where 9 inches of snow cover had melted in less than 36 hours.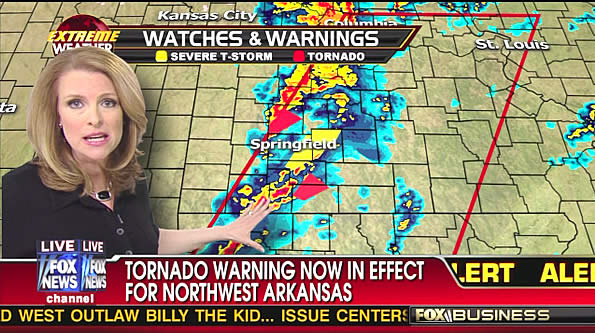 Janice Dean, Fox News weather warns of tornado warnings in Arkansas, Missouri and southwest Central Illinois.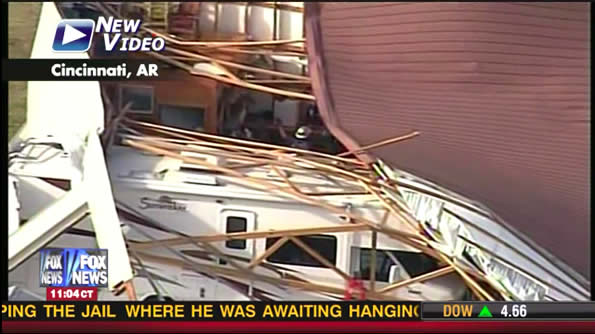 Video from FOXNEWS Channel — foxnews.com

Tornadoes fueled by unusually warm winter air sliced through parts of the South and Midwest on Friday, killing at least half a dozen people, injuring dozens of others.

View Weather/Earthquake/Natural Disasters in a larger map
Map showing approximate locations of deadly tornados.