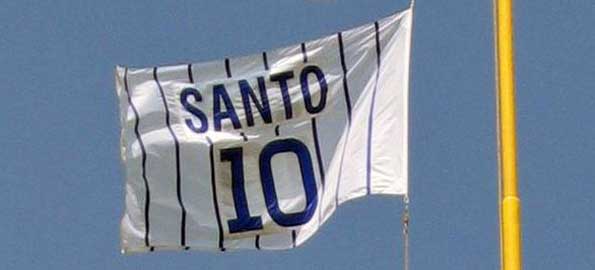 Pat Hughes, Santo's longtime partner on Cubs broadcasts, Cubs Chairman Tom Ricketts, and baseball commissioner Allan Bud Selig were scheduled to deliver eulogies at the 10 a.m. funeral mass for Ron Santo at Holy Family Cathedral. Selig was also a dear friend of Ron Santo.
[Ron Santo] A man who understood struggle.

— Allan H. 'Bud' Selig
[Ron Santo] Generous, charitable kind, tough, optimistic, iconic outrageous, hilarious fun loud self-deprecating, forgetful, nosy, fashion cop, food cop, backseat driver, #1 Cub Fan

— Pat Hughes
Funeral Procession Route
The Ron Santo funeral procession with a #10 flag on the casket left Holy Name Cathedral and headed north on State Street. The funeral proceeded east on Chicago Avenue, south on Michigan Avenue, where turned around in front of the Wrigley Building before pausing in front of WGN Radio (Tribune Tower).
The procession headed north on Michigan Avenue to inner Lake Shore Drive, west on Division Street, north on LaSalle Drive, north on Clark Street, north on Sheffield Avenue and then west on Addison Street. The Ron Santo (#10) funeral procession ended with a lap around Wrigley Field.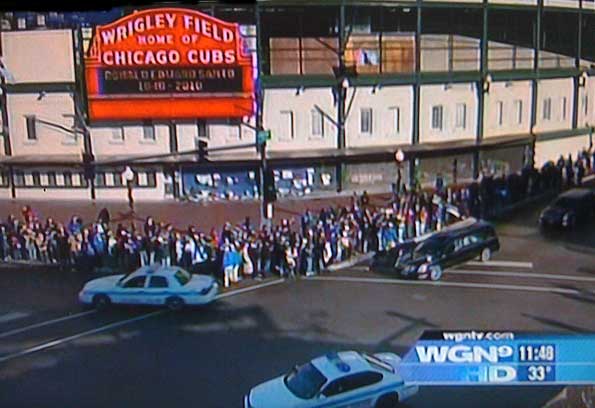 Ron Santo funeral procession passing Wrigley Field. See more from WGN9 — wgntv.com