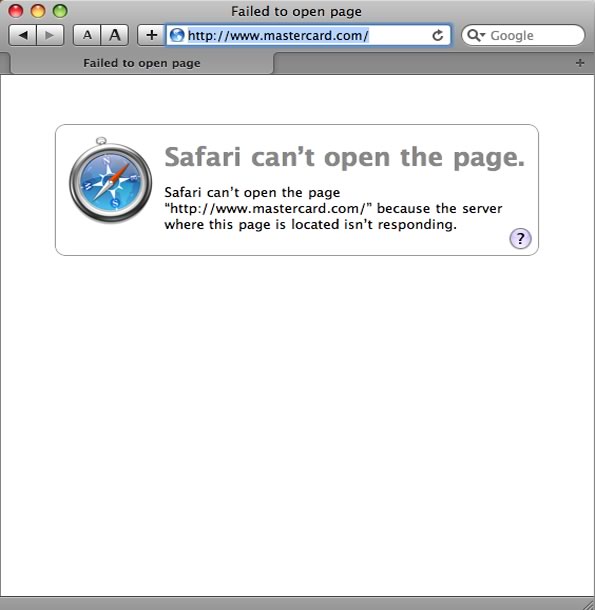 Screen capture of mastercard.com with 'server not responding' message.
MasterCard's official website Mastercard.com has been down since an early morning hour Wednesday.
Two websites are suspect in the incident:
English message board 4chan — http://www.4chan.org/
Operation Payback Website — http://anonops.net/anonops/Main_Page

Operation Payback claimed responsibility for the MasterCard web attack with a tweet this morning.
WE ARE GLAD TO TELL YOU THAT http://www.mastercard.com/ is DOWN AND IT'S CONFIRMED! #ddos #wikileaks Operation:Payback(is a bitch!) #PAYBACK
MasterCard and other payment-processing firms, including PayPal and Visa, cut off WikiLeaks transactions earlier in the week, citing violations of their terms of service. (Earlier today, a PayPal executive told attendees at the LeWeb conference in Paris that the company did so after a request from the State Department.)
Datacell — the company that enables Wikileaks to accept credit and debit card donations — says it will take legal action against Visa Europe and Mastercard. IT firm Datacell said it would move immediately to try to force the two companies to resume allowing payments to the whistle-blowing website. Iceland-based Datacell had earlier said the move by Visa and Mastercard could harm its own business.
MasterCard's Wikipedia entry was vandalized briefly with a leading description that the credit card company doesn't quite meet the encyclopedia's "neutral point of view" requirement:
MasterCard is an evil puppet of the US government, bowing to demand to cease handling WikiLeaks payments due to some vague reference to illegal activity. They are scumbags and should be called up on their actions!

— Segment of Wikipedia entry (Wikipedia is not related to Wikileaks)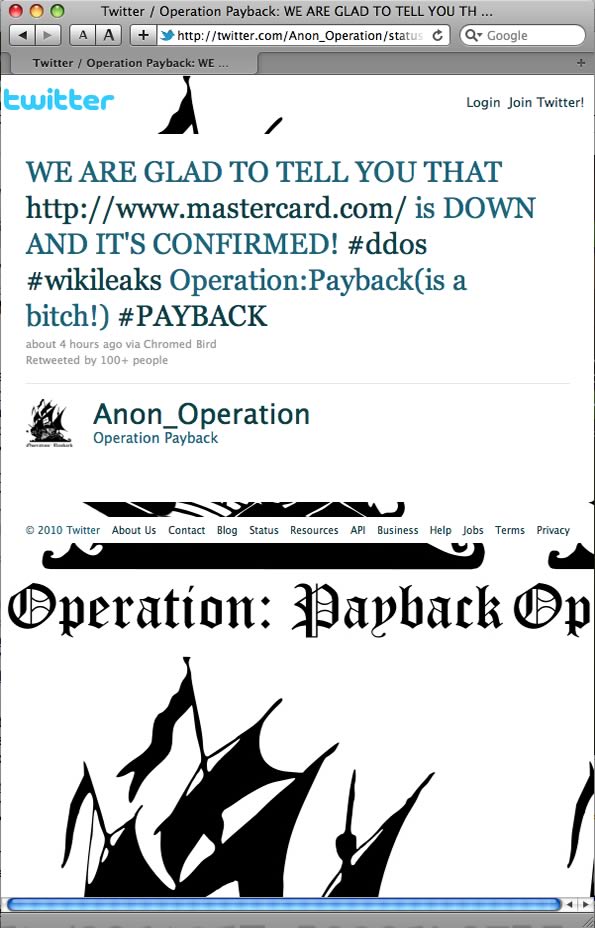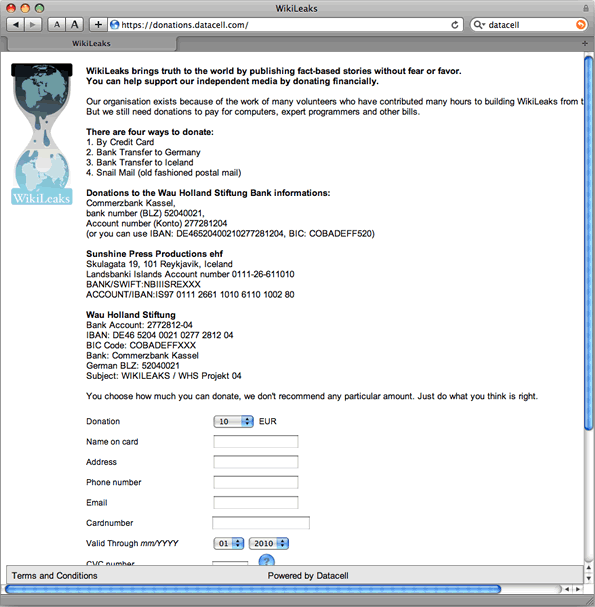 See also …
datacell.com